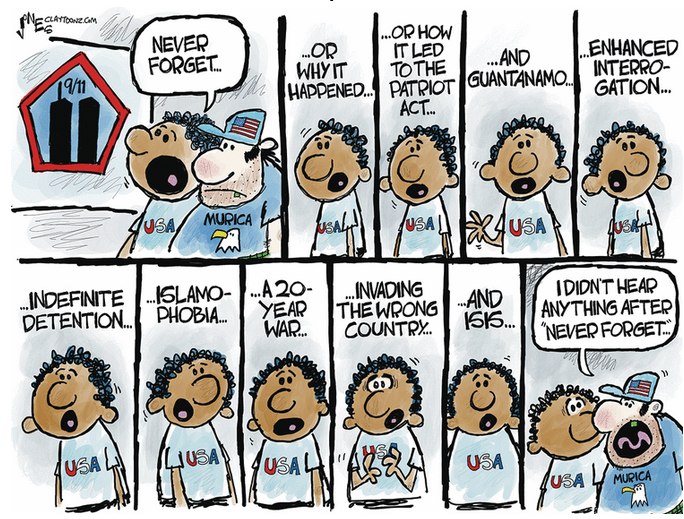 Some of us knew, even as the second WTC tower fell, that 'our' very own C-Plus Augustus and his quasi-adult handlers were going to weaponize !!! 9/11 !!! and release all their vilest realpolitik fantasies. I had dear friends who only survived because circumstances had them out of their WTC offices that day, and yet I could still fear for the millions of innocents who would suffer because a Saudi terrorist hiding out in Pakistan would give Dubya Bush the chance to work out his murderous daddy issues on millions of innocents elsewhere. WE'LL PUT A BOOT IN YER A**, IT'S THE 'MURICAN WAY…
This broke my heart, a little more.
The first thing I think of when 9/11 comes up is Balbir Singh Sodhi, a Sikh man murdered days after 9/11 by Frank Silva Roque, who told friends he was going to "go shoot some towelheads". Sodhi's murder was part of shootings at three locations. pic.twitter.com/Pm6XJVEr8c

— Jean-Michel Connard 🎃 (@torriangray) September 11, 2023
Sodhi's family are amazing people. His brother wrote an op end recently that I think is worth reading. https://t.co/QyT59fKGtW

— Jean-Michel Connard 🎃 (@torriangray) September 11, 2023

USA Today, June 2022:
My family received a letter last month from the Arizona Department of Corrections. In it, they told us that the man who murdered my brother died in prison on May 11.

Today, I am writing to express my public condolences to the family of Frank Roque.

Twenty-one years ago, my brother Balbir Singh Sodhi was shot to death in front of his store in Mesa. Balbir was a Sikh American father who wore a turban and kept a long beard as part of our faith. He was the first person killed in the wave of hate violence against people of color that followed the terrorist attacks on 9/11.

The man who killed him, Frank Roque, was arrested and eventually sentenced to life in prison…

On the 15-year anniversary of my brother's death, I was tired. I had been telling my brother's story to everyone I could – to media, lawmakers and students – but the hate in our country was getting worse. I was tired of racial violence against Sikhs, and against people from so many other communities.

"Nothing has changed," I said to our family advocate. When she asked if I wanted to speak with Frank, I said yes.

We called Frank in prison in a recorded conversation on Sept. 16, 2016. It was the first time I had ever spoken to him. At first, Frank defended himself. "The events of 9/11 so broke me down as a man that I could not control what happened," he said.

It was hard to listen, but I kept trying to understand Frank – and then, Frank said to our advocate, "I'm sorry for what happened to his brother."

I spoke up, replying: "This is the first time I'm hearing that you feel sorry."…

"I want you to know from my heart, I'm sorry for what I did to your brother," Frank said to me. "One day, when I go to heaven to be judged by God, I will ask to see your brother, and I will hug him, and I will ask him for forgiveness."

"I already forgave you," I told Frank, because in my heart, I believe that forgiveness is freedom from hate. "If one day you come out [of prison], we can both go to the world and tell the story," I said…

Four days after Frank died, I saw the news of the mass shooting in Buffalo, N.Y., where an 18-year-old white supremacist killed 10 Black people in a grocery store. Then, a few days after that, we learned of the school shooting that left 19 children and 2 teachers dead in Uvalde, Texas. Frank took my brother's life before either of these gunmen were even born.

My heart breaks for the families who lost loved ones in these attacks, and I join so many in asking our elected officials to take action in response to these massacres. In the case of Buffalo, we must acknowledge that white supremacy is a horrible disease that keeps spreading from generation to generation…

And in both cases, the need for the most basic, commonsense gun reform is as clear to me, as it was when my brother was shot to death 20 years ago.

Ultimately, if Frank can be changed, I believe we can reach anyone before they succumb to hate. We can reach them with love. So today, I send love to Frank Roque's family. I express my condolences for their loss.

And I mourn Frank. He's not outside of our hearts – no one is.
There's an Irish-American mantra: Forgive, maybe. Forget, never.