On the Road is a weekday feature spotlighting reader photo submissions.
From the exotic to the familiar, whether you're traveling or in your own backyard, we would love to see the world through your eyes.
Good morning!  Here's our OTR schedule.
Looks to be a fun week!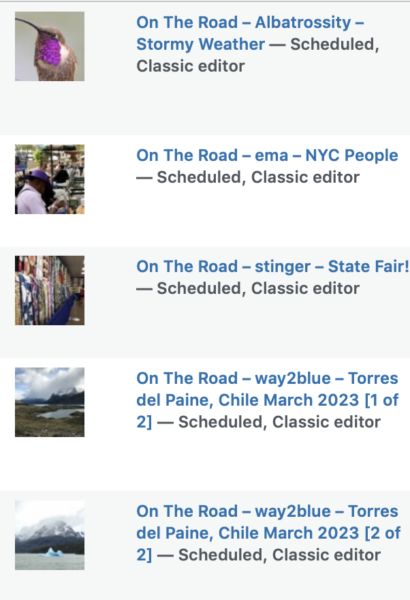 Albatrossity
The Arizona Monsoon is a welcome change in the weather, or more accurately, a shift in the wind direction. In the winter in AZ the winds are predominantly from the north and northwest (from CA, NV or UT primarily) and that air is pretty dry. Sometime in the summer the wind direction shifts so that air from the south and southwest (i.e., from the Gulf of Mexico and the Pacific Ocean), bring moist air to the mountains and deserts of the American Southwest. This predictable weather pattern means that summer moisture can make the flowers bloom, and hummingbirds have evolved to move into the state in late summer and take advantage of that abundance. And, as you will see, they move into the state from both north and south.