Gonna hang a KN95 mask on my front door to ward off Republicans.

— Rex Huppke (@RexHuppke) September 8, 2023
Clinicians: CDC recommends that everyone ages 6 months and up get the updated #COVID19 #vaccine to protect against serious illness. It will be available later this week. The new vaccine targets the most common circulating variants.

Full details: https://t.co/jqvxmjrlxI pic.twitter.com/I7eohAAWJ4

— CDC (@CDCgov) September 12, 2023
Just about everyone should get the new #Covid #boosters, @CDCgov says https://t.co/zTS9oIzAzR "Most Americans can still get a COVID-19 vaccine for free. For people with health insurance, most plans will cover COVID-19 vaccine at no cost to you."

— Maggie Fox (@maggiemfox) September 12, 2023
Also a quick note from today's ACIP slides that the application under review at FDA would allow Novavax boosters even after mRNA priming/prior boosters.
FDA approval is now the last step before Novavax becomes broadly accessible.https://t.co/0J0gaYYNBs pic.twitter.com/8wlYVYhr9P

— Daniel Park (@Daniel_E_Park) September 12, 2023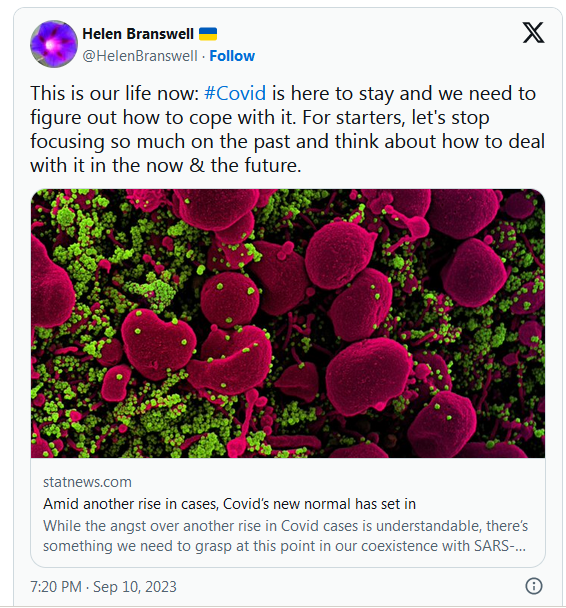 Among people who are still paying attention to Covid-19, there's been a recent surge — not just in viral activity but in the concern once again being paid to Covid…

"I see so many people say: 'Remember, Covid's not over,'" Jennifer Nuzzo, an epidemiologist and director of Brown University's Pandemic Center, told STAT.

"Covid's never going to be over. You need to set expectations accordingly. It is never going to be over."

Covid is now like influenza, RSV, rhinoviruses, and a large number of other pathogens that will at some point or points in a year increase in transmission activity and then decline, ceding the stage to something else that can make people cough, sneeze, run a fever, feel lousy, and sometimes require medical care and can on occasion lead to death. To be sure, Covid currently is the worst member of that gang, still killing more people a year than influenza, which previously wore the worst actor badge.

But when we're looking at Covid, it's important to remember that we are in a markedly different phase in our experience with SARS-2 than we were even a year ago, experts insist. Yes, the number of new hospital admissions is rising, and the number of deaths may follow. But they are far below the figures of previous years. In the last week of August 2021, there were nearly 86,000 new hospital admissions. Last year at the same time, the number was 37,000. This year it was 17,400…

Epidemiologist Bill Hanage noted that already this year, there have been roughly 100,000 Covid deaths in the United States — and there are 3.5 months left in the year. If half that number of people were to die during a flu season, it would be deemed a disastrous flu year.

"And yet, by comparison with what's happened in the past, [Covid] is so much better," said Hanage, who is associate director of the Center for Communicable Disease Dynamics at Harvard's T. H. Chan School of Public Health. "And I think we need to hold in our heads the fact that those things are both true.''…

Coming to grips with what life is going to be like with Covid as a part of the respiratory diseases mix could help us make better, more sustainable decisions about what we are and are not willing to do to try to mitigate its damage, the experts said. And toning down reactions to blips or upticks in cases could help avoid further Covid burnout that could prove counterproductive down the road, they suggested.

"My worry is if every time we see a new variant or an uptick in cases, making it overblown and freaking out about it, then nothing happens, then when the real thing comes and it is time to really bring back that pandemic playbook … people will not hear the warning bells," Lessler said.

Hanage agreed. "It may be the case that at some point we might want to dust off that [pandemic control] advice. But saying it at the moment is just going to devalue that currency," he said.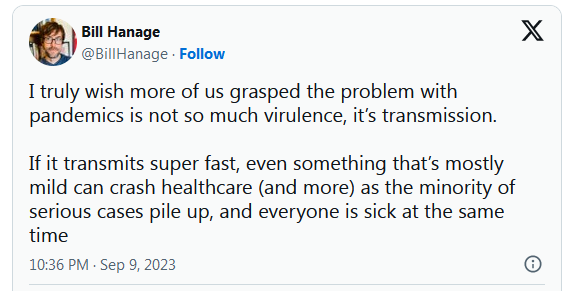 (link)
This week, more than 250,000 new COVID cases were reported in the U.S., the highest since February

— BNO News (@BNOFeed) September 11, 2023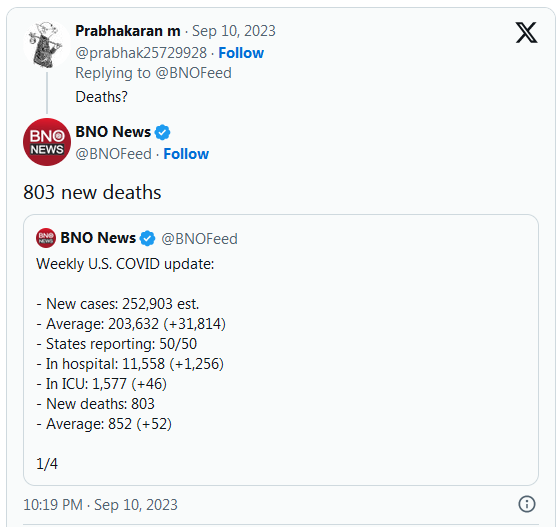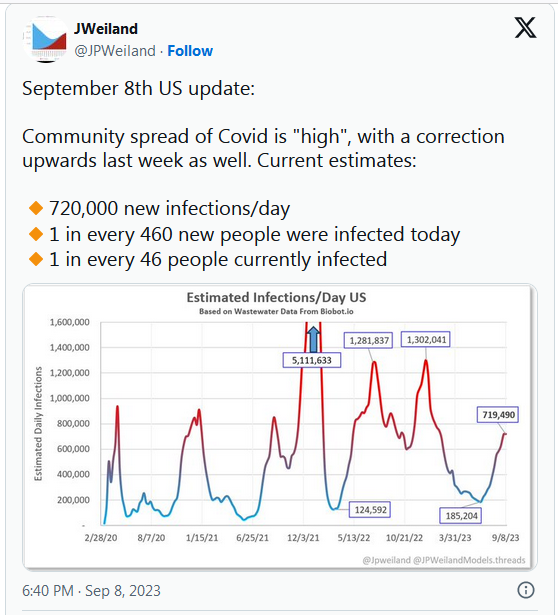 Forecast out to mid October:

Prediction is difficult at the moment with a lot of factors at play, so this is a range for now. Peaks are always hard to predict.

Lower model run peaks this week. FLip is growing, but not fast enough to peak later than late Sept. pic.twitter.com/6idiApRyyP

— JWeiland (@JPWeiland) September 11, 2023
======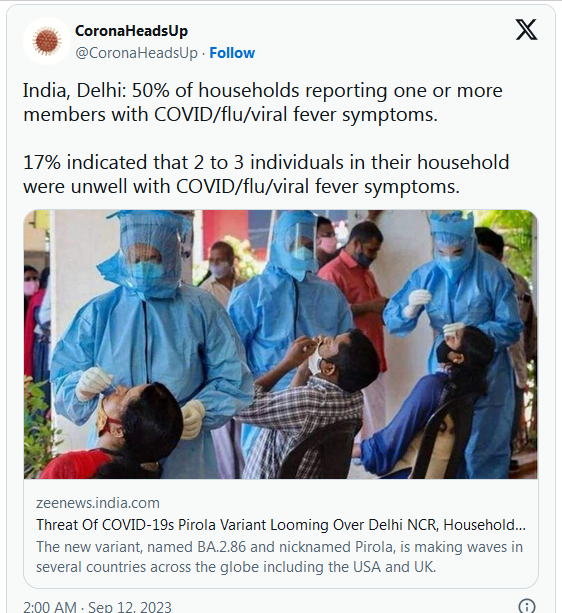 (link)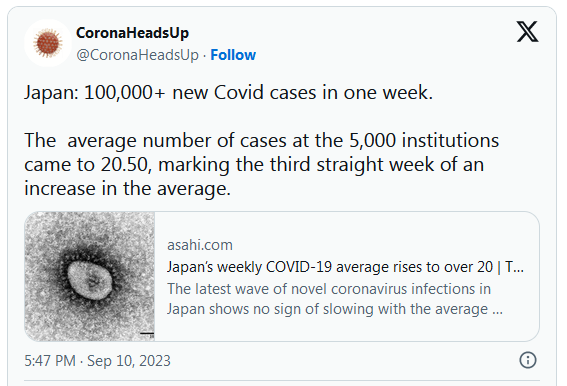 (link)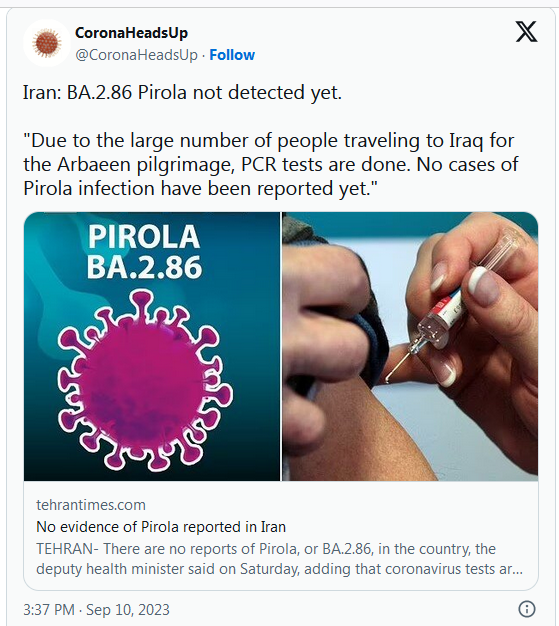 (link)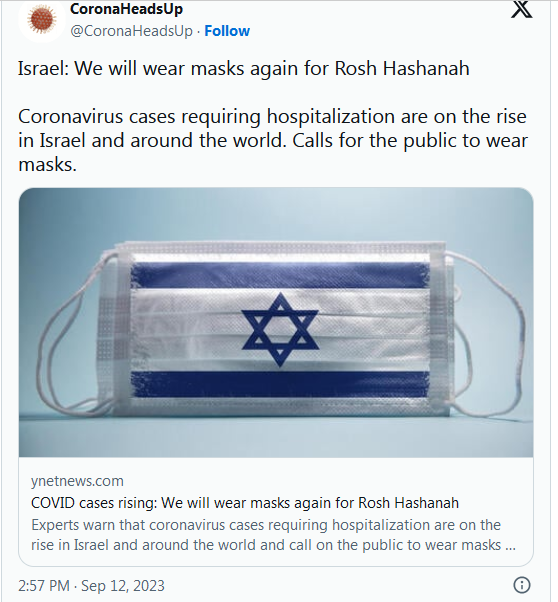 (link)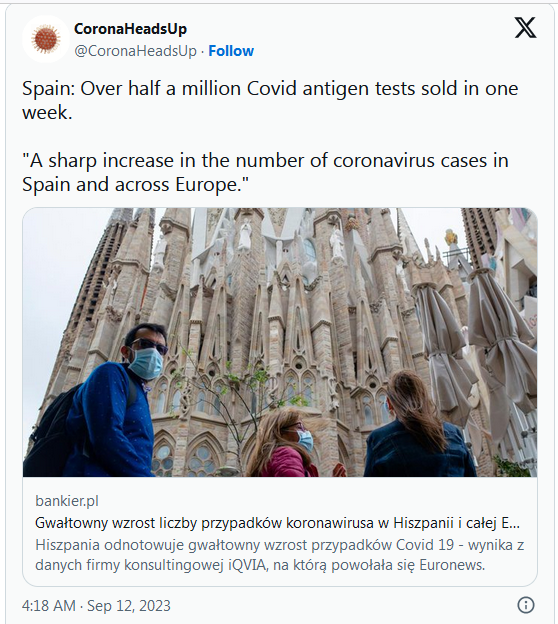 (link)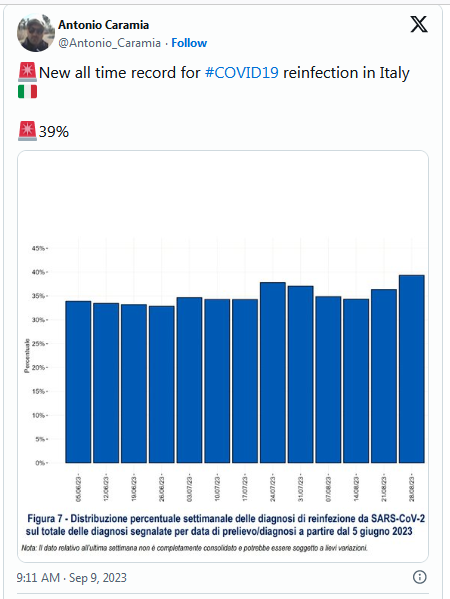 (link)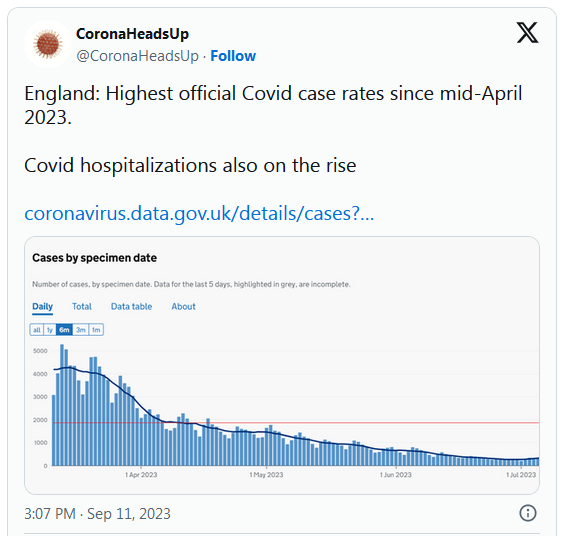 (link)
UK heads towards winter wave levels of Covid in September.

🚨 According to the ZOE Covid tracker, there are now over 100,000 symptomatic cases being recorded every day in the UK.

H/t @gwladwr pic.twitter.com/gbWEmRWnZ4

— CoronaHeadsUp (@CoronaHeadsUp) September 8, 2023
======
In case anyone is interested in recent work on immunity resulting from breakthrough infections in vaccinated people – so called 'hybrid' immunity – here's a recent paper pic.twitter.com/O5m5XS53Tk

— Bill Hanage (@BillHanage) September 12, 2023
#Covid can trigger antibodies linked w/ auto-immune disorders, causing blood clots & other complications, new research shows. Natural production of auto-antibodies—those aimed against your own tissues—increases w/ age. SARSCoV2 exacerbates that production https://t.co/X62l2wpGnN

— delthia ricks 🔬 (@DelthiaRicks) September 12, 2023
Here's an update on the reported samples of the new BA.2.86.* "Pirola" variant, vs the overall sample counts.

Denmark and now the UK have reported the most samples so far, with the highest frequency reported from South Africa. pic.twitter.com/ZX6wHjy0oZ

— Mike Honey (@Mike_Honey_) September 11, 2023
#SARSCoV2 can infect sensory neurons, explaining why some people lost the senses of taste & smell. "There's clearly a clinical effect of SARSCoV2 infection on sensory neurons, such as on smell and taste," said Dr. Rudolf Jaenisch whose lab led the study https://t.co/6SLITPdX8g

— delthia ricks ?? (@DelthiaRicks) September 7, 2023
Giving a booster dose of mRNA #Covid vaccine prompts a strong T cell response in immunocompromised people, according to Swedish research. That means people w/ an impaired immune system can achieve a relatively robust response against #SARSCoV2 if exposed https://t.co/Rw0weE3EjF pic.twitter.com/aKj60kwPv2

— delthia ricks ?? (@DelthiaRicks) September 8, 2023
It's encouraging to see more coverage about COVID's long-term effects on the heart being featured prominently. Not enough people know about this due to disinformation & gaslighting. We need to spread the word so everyone can take steps to protect themselves & their communities. https://t.co/CW9ckW7n7F

— Dr. Lucky Tran (@luckytran) September 12, 2023
"The majority of these occurred in people 65 and older . But heart-related deaths also increased dramatically in younger adults. In fact, a study found that the sharpest rise in deaths from heart attack during that period occurred in 25- to 44-year-olds."

— David Wallace-Wells (@dwallacewells) September 7, 2023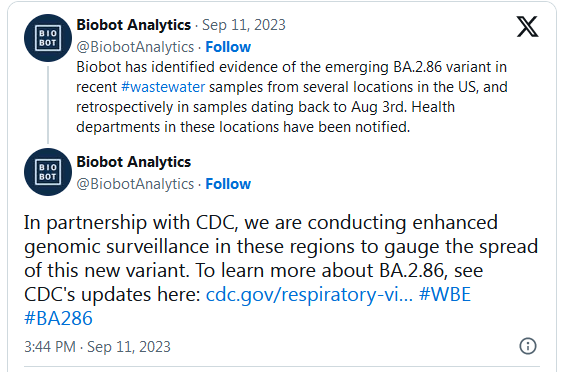 (link)
======
Florida: 43 of 67 counties reported 'moderate' levels of new weekly hospital admissions for COVID-19

'Moderate' levels are between 10 and 19.9 new hospital admissions per 100,000.https://t.co/V3dpKi5Tab

— CoronaHeadsUp (@CoronaHeadsUp) September 12, 2023
Next up: banning non-lead paint https://t.co/JO9Lvc67aM

— Dana Houle (@DanaHoule) September 10, 2023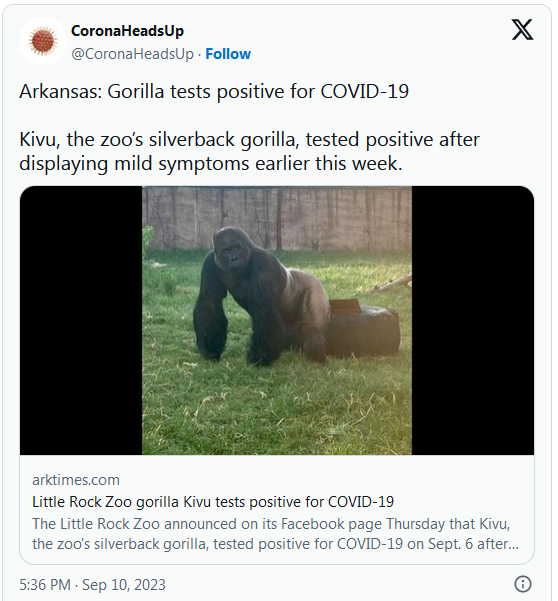 (link)
JD Vance makes his case against mask mandates by claiming that kids "need us not to be chicken little about every single respiratory pandemic." pic.twitter.com/CJRT6H1Oqy

— Aaron Rupar (@atrupar) September 7, 2023
In one action-packed speech/tweets, Rand Paul manages to name-check four shitty, anti-vaccine cranks. pic.twitter.com/68hIpSdL9E

— Clean Observer (@Hammbear2024) September 12, 2023
Literally no body benefits from like vaccine development being crippled to pander to Facebook influencers. There's basically no constituency that gains, just morons who think they do.

— William B. Fuckley (@opinonhaver) September 8, 2023
Just slightly more disturbing than the crying toddler were the hundreds of thousands of Americans who died alone in ICUs after saying goodbye to their family and friends over FaceTime. https://t.co/0zgAOo3TNQ

— Jonathan Reiner (@JReinerMD) September 12, 2023
Reader Interactions