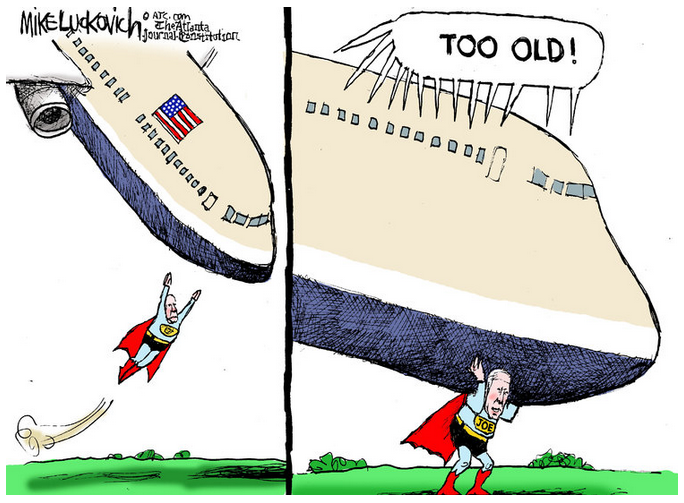 (Mike Luckovich via GoComics.com)

Warning: NSFW (h/t Satby)
Joe biden is Old pic.twitter.com/AXgunaP1LB

— 2RawTooReal (@2RawTooReal) September 10, 2023
Tragic news:
— Rep. Mary Peltola (@Rep_Peltola) September 13, 2023
We mourn the loss of Eugene "Buzzy" Peltola Jr. His dedication to Indigenous communities, especially as a director at the Alaska Bureau of Indian Affairs, was unparalleled. Our deepest condolences to Rep. Mary Peltola & family. Buzzy's legacy will inspire us always. pic.twitter.com/A3XE67oNEj

— Native Americans for Sovereignty and Preservation (@ntvsovereignty) September 13, 2023


Alaska Public Media, "Rep. Mary Peltola's husband dies after Alaska plane crash":
U.S. Rep. Mary Peltola's husband, 57-year-old Eugene "Buzzy" Peltola Jr., died awaiting rescue after the plane he was flying crashed Tuesday in remote Western Alaska, according to officials.

Anton McParland, Mary Peltola's chief of staff, said in a statement posted on her social media accounts that she was returning to Alaska to be with her family after the crash.

According to the National Transportation Safety Board, Eugene Peltola Jr. was the pilot and sole occupant of a Piper PA-18 Super Cub that crashed under "unknown circumstances" around 8:45 p.m. Tuesday.

Peltola had flown a hunter and the hunter's equipment to a remote location 64 miles away from the Western Alaska village of St. Mary's…

Peltola was born in Bethel. He is Tlingit and Yup'ik and a member of the Orutsararmiut Native Council.

He could always be found behind the scenes as his wife campaigned to become the first Alaska Native woman to serve in Congress. But he was a trailblazer in his own right.

Peltola worked for more than three decades for the U.S. Fish and Wildlife service in Bethel, eventually to become the first Alaska Native to oversee the Yukon Delta National Wildlife Refuge. Later, he served as regional director for the Bureau of Indian Affairs in Alaska. Through much of his career, he advocated for subsistence hunting and fishing.

He retired last summer, as his wife was running for office. He recently joked that he was adjusting to his new job as "arm candy" to the congresswoman…

The congresswoman's staff will continue to operate her office and meet with constituents while the family grieves, McParland said.
======
One of three active-duty Marines who stormed the U.S. Capitol together was sentenced to probation and 279 hours of community service — one hour for every Marine who was killed or wounded fighting in the Civil War. https://t.co/s6vujJ0Vhp

— The Associated Press (@AP) September 11, 2023
More like… Kevin realizes he may be looking for a new job soon, and sycophant is the role he's best at:
McCarthy seemingly confirms the DOJ is investigating Musk. https://t.co/w3Xw0QsUF5

— brb, harboring cats (@RaisingOneBrow) September 14, 2023