How I'm showing up to the polls in 2024 to vote for @POTUS & @KamalaHarris pic.twitter.com/JZl0UnnvAG

— Tai Babilonia ?? (@taiskates) September 18, 2023
There was a thread interwoven across the twitter accounts I read, using gifs to convey the users' 2024 intentions. Tai Babilonia's tweet best conveyed my own feelings!
President Biden addressed questions about his age at a fundraiser on Broadway: "A lot of people seem focused on my age. I get it. Believe me, I know it more than anyone." But said democracy is at stake and "I will not walk away now."

— Steve Holland (@steveholland1) September 19, 2023
"Because in 2024 democracy's on the ballot once again, & let there be no question: Donald Trump and his MAGA Republicans are determined to destroy American democracy. And I will always defend, protect and fight for our democracy. That's why I'm running," Biden said at fundraiser.

— Jennifer Jacobs (@JenniferJJacobs) September 19, 2023
"I'm running because — hear this — I want the entire nation to join me in sending the strongest, clearest, most powerful message possible that political violence in America is never, never, never acceptable," Biden said at Broadway fundraiser in NYC. pic.twitter.com/zpji7lubqW

— Jennifer Jacobs (@JenniferJJacobs) September 19, 2023
Elsewhere, Our Failed Major Media:
"Bring the boys home……but not like that" https://t.co/26tqDqRZCe

— Ragnarok Lobster (@eclecticbrotha) September 19, 2023
OP-VIDEO: Is the deal to free American hostages Biden's 9/11, or Biden's 9/11? We have a bipartisan roundtable discussion with Bret Stephens, Henry Olsen, and Ross Douthat, moderated by Maureen Dowd

— The okayest poster there is (@ok_post_guy) September 19, 2023


Repubs in disarray!
1st DEM ad for 2024 Congress https://t.co/XEhsOjjkpL

— Jennifer Now at Threads Rubin (@JRubinBlogger) September 18, 2023
this is, for the record, exactly what Pelosi and Biden mean when they say there needs to be a strong Republican Party https://t.co/Su5Btm0nO9

— the abbot of unreason (an archaeologist) (@merovingians) September 15, 2023
Then it wouldn't be the Republican party. "We need respectable and calm fascists in control to rein in the brazen psychos" is not a winning idea

— Christian (@getheode) September 15, 2023
the collapse of the New Deal Coalition didn't lead to a different Democratic Party, it led to a different Republican Party

— the abbot of unreason (an archaeologist) (@merovingians) September 15, 2023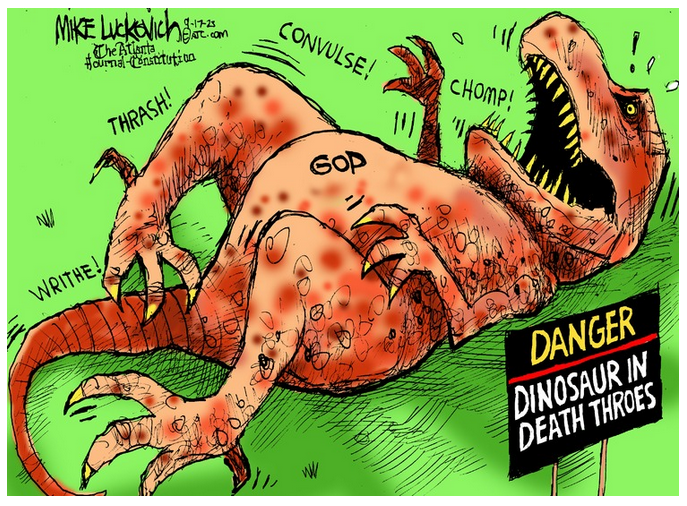 (Mike Luckovich via GoComics.com)