Ben Smith, who spent last week lecturing us that calling Mitt Romney weird is tantamount to attacking his Mormonism, actually posted the following: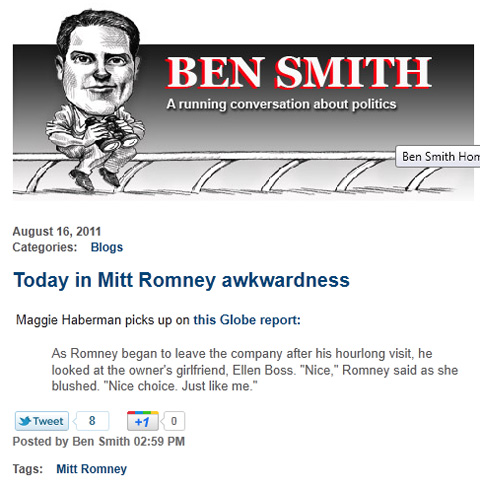 So calling him "awkward" is acceptable, but weird- STOP ATTACKING HIS RELIGION! Let's use the waybackmachine to look at the kind of things that the Obama campaign were going to use to define Romney as "weird:"
"There's a weirdness factor with Romney, and it remains to be seen how he wears with the public," the adviser said, noting that the contrasts they'd drive between the president and the former Massachusetts governor would be "based on character to a great extent."

***

Democrats also plan to amplify what Obama strategists described as the "weirdness" quotient, the sum of awkward public encounters and famous off-kilter anecdotes, first among them the tale of Romney having strapped his dog to the roof of his car.

None of the Obama advisers interviewed made any suggestion that Romney's personal qualities would be connected to his minority Mormon faith, but the step from casting Romney as a bit off to raising questions about religion may not be a large step for some of the incumbent's supporters.
Again, the Obama team never mentioned Mormonism, just things he does that are, you know, weird. In other words, exactly the kind of shit that Smith now finds "awkward." Yet when the Obama campaign said they might focus on it, Smith and Martin surmised it was just a way of opening a stealth attack on his Mormonism.
You can't make this shit up.
(via)