I'm off to dinner with some friends, but I wanted to leave you with a shiny new open thread. Also, my insane sister, who never met a plane she did not want to jump out of or a cliff she did not want to climb, a trait that I simply do not share, is apparently riding 150 miles to fight Multiple Sclerosis:
I've registered for the Bike MS: Escape to the Lake (Erie) event because I want to do something for the people who have been diagnosed – and because I want to do everything to prevent more people from learning what it means to live with this disease.

The MS 150 is a 150 mile bike ride from Pittsburgh to Erie,PA and back, all in an effort to raise awareness and funding for MS research and programming.

Today, there is no cure for multiple sclerosis, and with diagnosis occurring most frequently between the ages of 20 and 50, many individuals face a lifetime filled with unpredictability.
If you would like to sponsor her, here is the link. I promised her I would put a post up about this, partially because I know that my life is easiest when I just do what the women around me tell me to do, but also because I think it is a good cause. I'm in for $25.00.
Also, this cat wants you to donate to the fight against MS: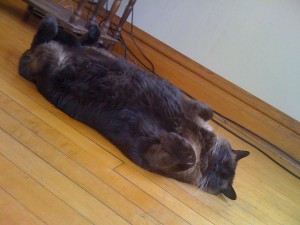 And how could you say no to that face? I'll be back later. Try to behave.