Here's a picture of my sister's dog, Huck, relaxing on the couch: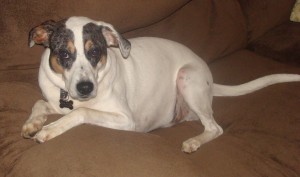 That pic doesn't do him justice. He's really one of the most beautiful dogs I've ever met, and he is super sweet. He looks like the old RCA dog when he sits up. Here's the group shot: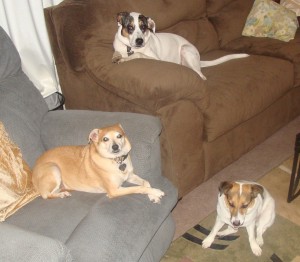 It's just super obvious to me that Rosie has lost weight. She's also become quite the lover- her nickname around my parent's house is "the kissing bandit." Where she once snarled, now she LURVES people. We think she was abused and kept in a crate most of her life, hence the early hostility to people, and because she eats lying down.
I also love how Lily sits with her paws crossed like a real lady!