Update:  I don't feel a particularly upset stomach, but I regret that my calculator at least must have gastritis.  As commenter TheF79 points out, I've double counted here:  the inflation numbers reflected in the CPI are contained in the constant dollar calculation below, and so real incomes measured in purchasing power have in fact risen significantly since the 1950s — which of course we all know.
For all the events going on around us, this is a vastly more wealthy country by most measures than it was in the immediate aftermath of the Second World War — and my leap into picking one statistic or another was performed in haste and without that momentary reality check:  but does this make sense.
I believe the technical term for my lapse is brain bubbles; and the lesson is, as always, blog in haste, repent at (not much) leisure.
I've just got off the phone with one of my economist colleagues here at MIT, both glumly to confirm what I already knew, that this correction is necessary, and to try to find a simple way to frame the fact that despite that growth in purchasing power correctly identified by TheF79, daily life seems much harder to many of us than it did in those days.  And broadly, as I understand it, the issue lies in consumption patterns, in part, and in part due to our exposure to costs that were either a minimal part of a household budget or hidden from it.  Medical care is the obvious one there, and for a snapshot of the impact of changes in what we do with our money, consider the cost of college education, now pursued by more (for good reasons in the job market) and priced ahead of inflation at many institutions — or the changes in the amount of housing we consume.
The impact of income inequality is another big issue — but here I'm not going to venture to say anything just yet, because the complicating factors of the tax code and transfer payments make the issue easy to misdescribe, and I'd like to make only one embarrassing public confession today.
Just to provide the simplest-minded frame for the thread prompted by Cintibud's email describing the trajectory of middle-class life over the last fifty years, here are two bird's-eye view numbers:
Personal income in the US, 1950 vs. 2004 (in constant 2004 dollars):
1950:  $17,076 (male); $6,333 (female)
2004:  $30,513 (male); $17,629 (female)
The Consumer Price Index, 1950-2004
12/1950: 25
12/2004: 190.3
(August 1983=100.2)
Which is to say that consumer prices rose about 7. 6 times over the period in which wages fell short of doubling for men and short of tripling (from a much lower base, obviously) for women. Real incomes have in fact risen substantially.  Consumption patterns have changed as well.
Now, these are the broadest brush numbers you can have, very crude measures of experience. And there's nothing new in this post; these stats have hardly been crammed to the bottom of that Social Security lockbox I keep hearing about.
But still, it's worth trotting them out from time to time just to provide some broad context for all the stories many of us can tell about the social or family life we experienced as children.  These figures suggest that from the national-historical point of view,  if it feels like the broad middle of American society is living poorer than its/our parents and grandparents did* — well here we see that in aggregate, income (i.e. for most people, wage) growth has lagged well behind the increase in the cost of living over the last half century and more. Nope, see above

I.e. — yup, it's getting ever tougher out there.  Yes — but for reasons having to do with consumption, income inequality, and rapid price increases and or exposure to the cost of medical care and some other goods, not because we are in absolute terms poorer than our grandparents.  See, e.g. the shift in the size of the average home — up about 60% between 1970 and 2004.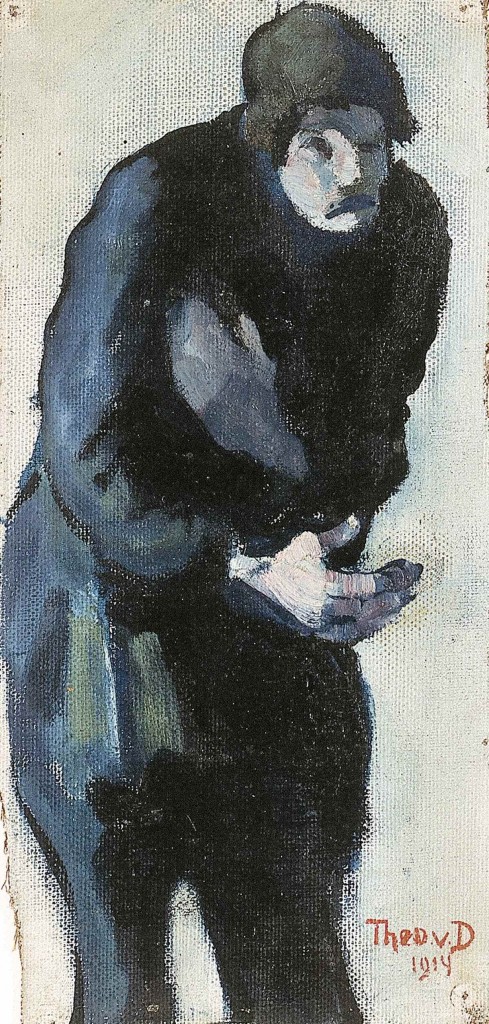 Of course there are all kinds of confounding details — changes in house size, e.g., or the differing basket of goods that underpins the CPI over time being two obvious ones.  I said this was a crude measure.
Feel free to use the comment thread to build up a richer set of numbers to drive the point home.
(I believe that's what's classically called a bleg.  Have at it.)
*And/or must work much harder to stay level — which is same thing, if one regards leisure time as a good sacrificed to preserve other goods) See the difference between price changes and consumption changes mentioned above.
Image:  Theo van Doesburg, Beggar, 1914.