Looks like the fact — and, more important, the meme — that the Republicans are doing everything they can to further damage the American economy, in a deliberate attempt to improve their own electoral chances in 2012, might finally be gaining some traction:
E.J. Dionne at the Washingon Post, on "Gridlocking the Lives of the Jobless":
The economy needs another jolt, but Congress is in gridlock. Democrats, or most of them, realize that their political futures and the well-being of millions of households hang on whether unemployment can be brought down. Yet Republicans have the capacity to block even the smallest steps forward…
__
For the moment, Republicans have no interest in moving the nation's debate toward investments in job creation because they gain twice over from keeping Washington mired in discussions on the deficit. It's a brute fact that Republicans benefit if the economy stays sluggish. And despite their role in ballooning the deficit during the Bush years, they will always outbid Democrats on spending cuts….
Kevin Drum, as befits a Mother Jones progressive, is pessimistic:
I wonder if this is ever going to become a serious talking point? It gets batted around now and again by the odd newspaper columnist or blogger, but that's about it. No serious person in a position of real influence really wants to accuse an entire party of cynically trying to tank the economy, after all.
__
But it would sure make headlines if Obama decided to take up this ball and run with it. He'll never do it, because it wouldn't be postpartisan or pragmatic. But Republicans are all set to turn the next 18 months into the World War III of political campaigns, and this would sure be a way of showing them that two can play at that game.
Jonathan Cohn at eventheliberal TNR fact-checks the Republican's "economic nonsense":
A lot of us are begging, even pleading, with President Obama to focus more on economic stimulus and less on deficit reduction. But let's not kid ourselves. President Obama isn't the obstacle to passing a new jobs program. The Republican Party is…
__
According to the very best evidence we have, the Recovery Act prevented the economic downturn from becoming a full-brown depression or something very close to it. And private sector employment has been growing, albeit in fits and starts. The primary reason employment overall isn't growing faster is that public sector workforces are shrinking, because low tax revenues are forcing local and state governments to balance their budgets with spending cuts.
__

If the federal government, which has the ability to borrow money, had simply maintained the assistance it provided after the Recovery Act expired, many more people would have jobs. And what would have worked a few months ago would still work today: Extending new assistance to the states would boost employment, by (among other things) keeping teachers, first responders, and plenty of other government workers from losing their positions…
__
It's about ideological rigidity (government is always bad) and partisan opportunism.
Steve Benen at the Washington Monthly adds context on GOP television mouthpiece Senator "Shakedown" Shelby:
Richard Shelby isn't just some random television personality. He's the ranking member of the Senate Banking Committee; he recently killed an important nomination to the Federal Reserve's Board of Governors; he's trying to kill accountability and safeguards for Wall Street; and last year, he held several nominees for key military posts hostage until he was paid off in pork for his state.
__
If Americans want to know why Washington isn't doing more to create jobs, look no further than the confused senior senator from the state of Alabama.
I think "confused" is overly polite; Shelby is simply working to confuse other people, to benefit himself and his co-conspirators in the GOP (Greedy Old Perverts), no matter how badly their actions may damage the rest of us. And we need to keep reminding people why he's doing it.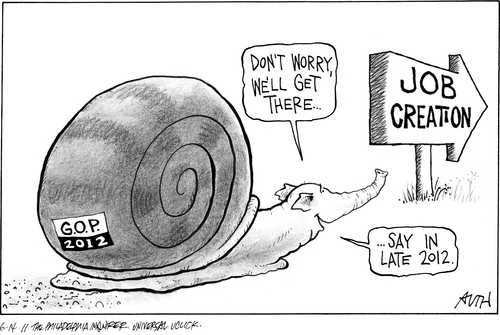 (Tony Auth via GoComics.com)