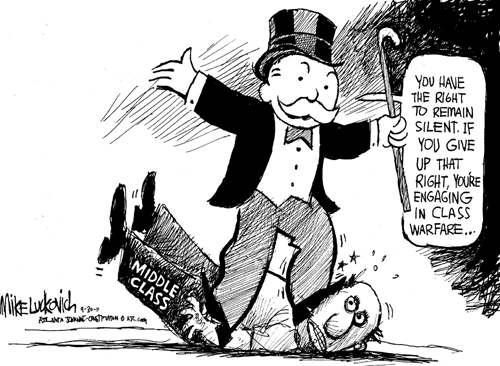 (Mike Luckovich via GoComics.com)
If three stories on the same day indicate a trend, even the WaPo is getting tired of listening to the One-Percenters snivel. Barbara Ehrenreich snarks on Super-Rich People Problems:
The latest group to claim victim status is the rich. Actually the super-rich, whose wealth ordinarily exempts them from pity. While they are not yet subjected to airport profiling (except for early boarding and club access), they sense that the public is turning subtly against them — otherwise how could President Obama propose raising their taxes?
__
Admirers of the rich, led by pundits and politicians on the right — from Laura Ingraham to Larry Kudlow — have long derided the victimization claims of African Americans, women, gays and the unemployed, but now they're raising their voices to defend the rich against what they see as an ugly tide of "demonization."
__
At a time when poverty is soaring, unemployment hovers grimly above 9 percent and growing numbers of Americans suffer from "food insecurity" — the official euphemism for hunger — this concern may seem a tad esoteric. At a time when executive compensation is reaching dizzying new levels and the gap between the rich and everyone else is growing as fast as the federal deficit, it may even seem a little perverse…
__
You would never guess from all the talk of demonization that the rich enjoy perhaps the strongest PR machine on the planet, far beyond their entourages of agents, publicists and assorted image-makers. The mainstream media, for example, are not owned by collectives of busboys and taxi drivers, and even the "liberal" outlets among them are not pitched toward the impecunious. They may snicker when the occasional hedge fund manager is brought to justice, but they've been equally snarky about populist actions against the rich, such as the ongoing occupation of Wall Street, which is newsworthy if only for the levels of brutality it's elicited from the NYPD. Or did you know that the Transportation Security Administration just won union representation this summer? Probably not, because that's "labor news," which has been all but supplanted by "business news."
Greg Sargent, at his Plum Line blog, highlights Warren Buffett:
QUESTIONER: Are you happy seeing your suggestion, this new Buffett Rule, becoming more of a basis of a political battle that really has turned into class warfare?
__
BUFFETT: Actually, there's been class warfare going on for the last 20 years, and my class has won. We're the ones that have gotten our tax rates reduced dramatically.
__
If you look at the 400 highest taxpayers in the United States in 1992, the first year for figures, they averaged about $40 million of [income] per person. In the most recent year, they were $227 million per person — five for one. During that period, their taxes went down from 29 percent to 21 percent of income. So, if there's class warfare, the rich class has won.
And in the 'Most Popular: Business' category, we're told that the "Mental toll of extended unemployment looms large":
… A recently released, comprehensive study of the long-term unemployed by Rutgers University's John J. Heldrich Center for Workforce Development found that 32 percent were experiencing a good deal of stress and another 47 percent said they had some stress associated with their joblessness. Moreover, at least 11 percent reported seeking professional help for depression in the past year.
__
One in two of the respondents in the two-year national study said they have avoided friends and associates, largely out of a sense of shame and embarrassment — a self-imposed isolation that hurt their ability to network to find employment.
__
Many of these unemployed Americans cannot afford to seek professional help because they lost their employer-provided health insurance with their jobs. At the same time, federal, state and local governments have cut back on spending for mental health clinics and outreach in response to budget crises spawned by the bad economy.
__
It could get even worse if Medicaid funding of mental health services is put on the chopping block later this fall, as a congressional "supercommittee" hunts for spending cuts to help reduce the federal budget deficit. Medicaid is the main source of funding of public mental health services for young people and adults, accounting for nearly half of state mental health budgets, according to the National Alliance on Mental Illness. […] __
Tim Jansen, executive director of Community Crisis Services, a crisis hotline in Maryland's Prince George's County, said that in the past few months there has been a sharp rise in the volume of calls that he and his 40-person staff have fielded from people experiencing unemployment-fueled mental breakdowns. His staff is hearing more and more about people draining their savings and losing homes after they lost jobs.
__
"We used to be able to be more of a cheerleader on the phone for people struggling to get work and buckling under that stress," Jansen said. "But the challenges have piled on top of each other over a series of years and the government's [role is] fading from view . . . it's hard to know what to say."
Well, there's always Joe Hill's famous last words: "Don't waste any time mourning. Organize!"