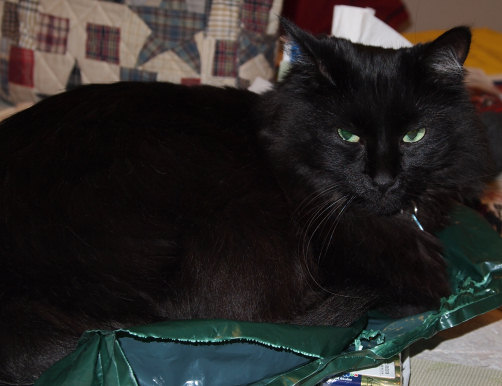 From commentor Starfish:
This is Casey. He has been living with me and my husband for the past 7.5 years. The trouble is that my son has been living with me, my husband, and the cat for the past 14 months.
__
When my son was seven months old, the allergist told us that the sensible thing to do was to get rid of the cat because the boy was allergic. However, we are not sensible people when it comes to our pets so we decided to wait and see what happened. I asked my friends if they needed a cat, and most of them offered to take the boy after seeing the photographic evidence of Casey's disdain for me.
__
But for the past month, the boy has had a runny nose and a cough that haven't gone away. He hasn't been able to sleep, and he hasn't been able to hold down a lot of food because he chokes from all the coughing.
__
Casey is an alpha cat. He enjoys the company of men and opera singers, but he does not like the company of other cats. When we lived in a garden level apartment in Colorado, he was allowed outside and would frequently follow people home. We would get phone calls from people that he had followed home. The funniest was the time that he walked through an open door and perched himself atop someone's hamster cage.
__
Neighbors in that area would decorate him for Christmas.
__
Since we moved to Maryland, he has been an indoor cat. Occasionally, we open the window, and he tells the world how tormented he is with his free access to food, his electric water fountain, a little box that is cleaned twice a day, and a variety of snacks.
Anyone interested, contact me at [email protected] (or click on my name near the top of the right-hand column) and I'll forward your email.