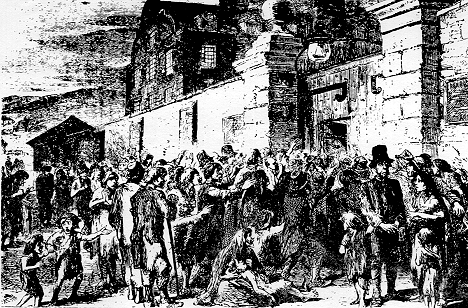 I know less about economics than I do about fashion, which is to say, nothing. But I can usually spot a bamboozle in the hatching phase. Here are two items on the economy that appeared within the last week. First up from a Reuters business piece:
Disability rolls may be holding economy back
Those receiving benefits now account for 5.6 percent of working age population

Since the recession began, the share of Americans actively looking for work, known as the labor participation rate, has fallen to 63.6 percent from 66 percent in 2007.

Some people give up looking for work temporarily, but the size of the decline has perplexed economists and disability is clearly a factor.

JP Morgan estimates it accounts for half a percentage point of the drop. With jobs scarce, it causes little drag on growth.

But Chris Low, chief economist at FTN Financial, said over time, disability will rob roughly $250 billion — or 1.6 percent — from total output each year once the economy returns to full employment, probably within the next five to seven years. This will also widen the budget deficit.
ROB, he says. Okay, here's the other item:
Study: CEO Pay Increased 127 Times Faster Than Worker Pay Over Last 30 Years

From 1978 to 2011, CEO compensation increased more than 725 percent, a rise substantially greater than stock market growth and the painfully slow 5.7 percent growth in worker compensation over the same period.

In 1978, CEOs took home 26.5 times more than the average worker. They now make roughly 206 times more than workers, EPI found. The pay isn't always tied to the performance of their businesses — as ThinkProgress has noted, CEOs at companies like Bank of America often pocket huge pay increases even as the company's stock price plummets and jobs are cut.

Workers' wages aren't tied to productivity either. Despite substantial gains in productivity since the 1970s, worker pay has remained flat. According to Labor Department data cited by the Huffington Post, inflation-adjusted wages fell 2 percent in 2011.
How to solve the problem? Getting the feed straws of those disabled layabouts out of our wallets, obviously. And more tax breaks, a greater share of political control and higher bonuses for the CEO class.
I haven't heard a GOPer make a big show of specifically attacking disability payments yet, but it's coming if it hasn't already happened. The disabled will be the new strapping young t-bone buying bucks.
[X-posted at
Rumproast
]