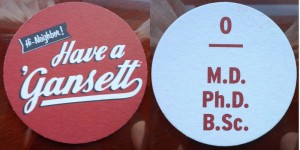 I picked up this coaster at a bar last night and I have no idea what the flip side means (click to embiggen).  Can someone more familiar with the Island code clue me in?
Here's today's Netroots schedule for those of you playing along at home.  K-thug is on at 9.
The following keynotes and panels will be streaming live. All times are eastern time. Full descriptions of each session are available here.
9 to 10:15 a.m.
10:30 to 11:45 a.m.
Noon to 1:15 p.m.
1:30 to 2:45 p.m.
3 to 4:15 p.m.
4:30 to 5:45 p.m.
Also, panel and keynote pages will be updated with tweets, video and pictures after the sessions.