I found a young calico living in my garage. She was dirty and thin but otherwise in good health and very friendly. Vet says she is negative for FeLV and not pregnant. They found that she had previously been spayed. She is spending the night at North Laurel Animal Hospital to be bathed and have some ticks and ear mites removed.

I have a high-prey-drive greyhound and cannot bring her into the house. I've contacted the no-kills in the area and no one has room.

When we pick her up, she will be up to date on all routine shots and tests. We bought a cat carrier yesterday, so we are willing to transport her. She is in North Laurel Maryland, in southernmost Howard County.

The techs at the vet office have named her Samantha….

Anybody want a cat? : )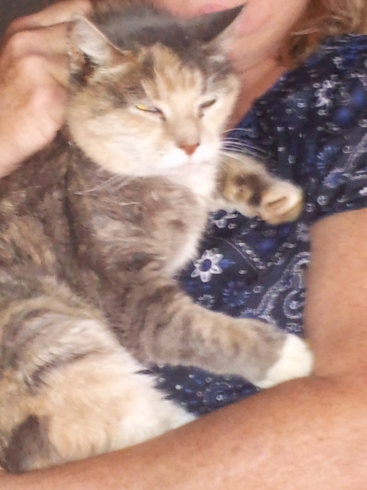 If you have a lead for a home for Samantha — even a no-kill shelter or foster home that could hold her — leave a comment, or send me an email (click on my name in the right-hand column) and I'll put you in touch with Tommy.