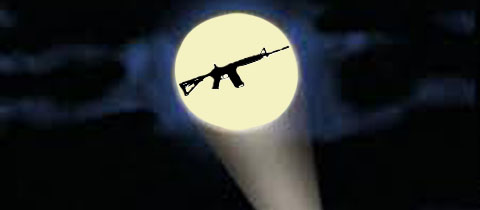 Shifty-eyed Frenchman Wayne LaPierre was on Capitol Hill today, using his pie-hole to spray lies and obfuscations in defense of guns 'n ammo makers' profits much as a prepper might fantasize about using a drum magazine-fitted assault rifle to spray bullets at imaginary urban hordes to protect his bunker.
While LaPierre was lying and obfuscating, yet another nutbag went on yet another shooting rampage, which Captain Mark Kelly, husband of Gabby Giffords, pointed out to the committee. Early report:
Three people were shot and wounded Wednesday, one of them with life-threatening injuries, when a gunman opened fire at a Phoenix office complex, authorities said.

One of the three victims sustained "extremely critical" injuries, while the two others were less severely wounded, police said, correcting their earlier report that all three had been critically injured.

Phoenix police Sgt. Tommy Thompson said the gunman was not in custody and that authorities were seeking an "older white male." Police said shell casings at the scene indicated that at least two weapons were used.

Witnesses told KNPX that they heard nine or 10 shots total. A woman who works in the building told the station that she immediately began running down the hallway.

"We didn't know where to hide, because all of our offices are all windows," she said.
I know just how that woman felt: 20 years ago, another disgruntled white man showed up at an office building where I used to work with a gun he'd purchased legally. He shot and killed several people. Everyone in the building, me included, ran away like scared little bunnies and hid. It turns out that's a natural human reaction. Even for concealed carry permit holders!
Chances are, they'll find the Phoenix shooter dead after he kills himself with one of his legally purchased guns. That's what the guy who shot up my office building did.
It was kind of a shock when I thought back on it after this latest incident and realized it's been 20 years since that happened. So little has changed.
[X-posted at
Rumproast
]