Rand Paul is a smarmy douchenozzle who doesn't give a flying fuck about US drone policy except when it serves as a handy stick to beat the Obama administration and rile up the wingnut militia crowd. His remarks on the program of notable civil liberties guru Rush Limbaugh yesterday made this pretty clear.
But in as much as Baby Doc has inspired the Republican Party to start punching itself in the face, I applaud him [warning: PolitiHo link]:
As good a day as this was for Sen. Rand Paul on Twitter, it was at least that bad for Sen. Lindsey Graham.

Laced throughout the thousands of tweets cheering on the filbustering Kentucky Republican was a vicious, visceral anger aimed squarely at the South Carolinian up for reelection next year.

"This very well could be a defining moment in this particular campaign — the moment Lindsey Graham lost his grip on the boots on the ground in South Carolina," Daniel Encarnacion [warning: YouTube link], state secretary for the Republican Liberty Caucus, said in an interview.
Alexander McQueen crocodile boots, one hopes. And now there's this: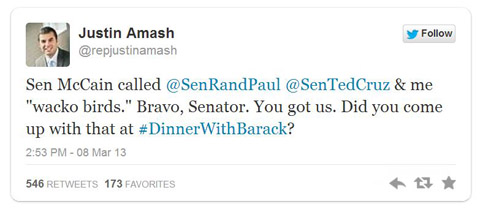 A pitched battle between the Beltway hosebags like McCain, Graham, etc. and the tea party loons is exactly what the party needs right now. The Democratic Party, I mean. Rock on, Paultroon.
[X-posted at
Rumproast
]