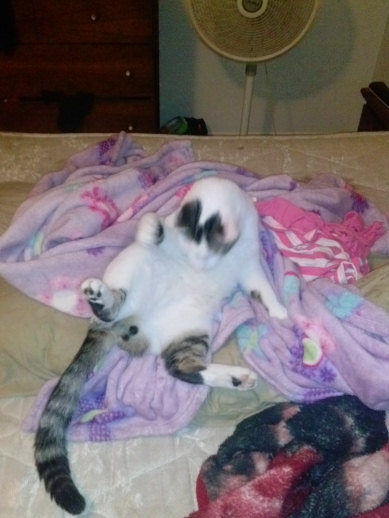 From commentor Dr. Squid:
I'm on the Illinois side of the St. Louis area, and we need to re-home a cat obtained last fall. He is a boy cat whose name is Figaro (the 3-year old daughter named him that even when we thought he was a she, somehow she just knew), neutered, less than a year old, with all of his claws, shots, and Madison County tags.

We adore the little lug, but the wife, who brought him home, can't shake her allergies. To top that all off, we have to leave town for a while, and we can't find anyone that we know even tangentially to take care of him. Because the wife isn't going to get any better with him in the house, and definitely won't after being laid up for a while with surgery scheduled next month, it's time to find the little guy a new home.

He has been an only cat since we got him, and the only dogs he may have even seen were the Yorkies next door. He's OK with being picked up on occasion, but our 5-year-old has been a little too aggressive with picking him up. He'll likely be OK in a place with bigger kids that know how to pick up a cat or know to leave him alone.

I'd say he's in the 10 pound range. He does like to be let outdoors on occasion. He likes jumping at anything, including my hand holding the stair rail while going up.

We leave town late next week, so we need to re-home Figaro no later than Friday.
If you are interested, or know someone who is, contact me at AnneLaurie (at) verizon-dot-net (click on my name in the right-hand 'Contact' column) and I'll put you in touch.