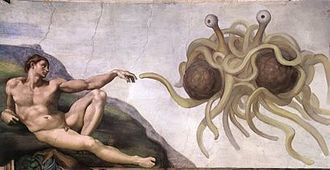 First: God, or rather his alleged representative on earth:
As a colander-carrying Pastafarian, I'm only interested in the religious beliefs of others as an anthropological exercise or mode of self-defense (knowledge being power and all) and care about the Catholic Church only insofar as some of its hierarchy seek to use political influence to restrict women's autonomy, repress gays and operate a global child-rapist protection ring.
In the anthropological sense, though, it's fascinating to watch the Opus Dei wing of the church insist that Pope Francis is exactly like Ratzinger, because shut up, that's why. Pope Francis has shown signs that he maybe he takes Jesus' teachings about the poor and service over dogma seriously. Maybe Francis really is Ratzinger with a better media strategy. But it's fun to watch far-right Catholics freak out or Pope-splain every time he says something that isn't overtly hostile to gays or people without a stock portfolio.
Second: Florida legislature to review "Stand Your Ground" this fall:
The wingnut speaker of the wingnut-majority FL state house, Will Weatherford, announced the upcoming review in a Tampa Tribune op-ed that was larded with wingnut talking points:
[A]s the current speaker of the House, I have been asked to repeal ["Stand Your Ground"]. "Asked" is a generous term considering the threats of boycotts, union-sponsored protesters overtaking the governor's office and Hollywood elites disparaging our state and threatening the livelihood of hard-working Floridians.
He couldn't have worked "Benghazi" into that sentence? Weatherford serves up another wingnut meme:
The fact is, George Zimmerman's attorneys did not use "Stand Your Ground" in his defense, a detail that protesters and critics have incorrectly ignored. Nevertheless, in the wake of the Zimmerman case, "Stand Your Ground" has been challenged.
This is a popular bit of misdirection on the right, dressing a lie in truth's clothing. While it's true that Zimmerman's defense team didn't invoke "Stand Your Ground," the law changed jury instructions in a crucial way, and at least one of the jurors who have spoken out about the verdict to date cited it as a critical factor in her decision to acquit Zimmerman.
Here are the pre-SYG juror instructions:
The defendant cannot justify the use of force likely to cause death or great bodily harm unless he used every reasonable means within his power and consistent with his own safety to avoid the danger before resorting to that force…The fact that the defendant was wrongfully attacked cannot justify his use of force likely to cause death or great bodily harm if by retreating he could have avoided the need to use that force.
And here are the instructions the Zimmerman trial jurors received, which are different because of SYG:
If George Zimmerman was not engaged in an unlawful activity and was attacked in any place where he had a right to be, he had no duty to retreat and had the right to stand his ground and meet force with force, including deadly force if he reasonably believed that it was necessary to do so to prevent death or great bodily harm to himself or another or to prevent the commission of a forcible felony.
Sorry to be a broken record on this point, but it's important to refute the falsehood that SYG had nothing to do with the Zimmerman verdict. Gun nuts and people who are determined to minimize the significance of Trayvon Martin's killing for other reasons seem to have settled on selling that lie to make sure nothing changes.
We know that a lie repeated often enough can become received truth. Ten years ago, expert liars piled bullshit high enough to get our fellow citizens to roll over for a ruinous, unnecessary war. Today, NRA lackeys like Weatherford are using the same tactic to ensure that Florida remains a subtropical OK Corral.
It's pretty clear from Weatherford's op-ed that this review is a pro forma sop, most likely undertaken to head-off any serious boycott momentum. And given the composition of the FL legislature and public opinion on the issue, I'd be shocked if anything changes, but honestly, I'm surprised they're going to review it at all. Big Mouse must've gotten to them.
Third: On overcoming fear
As I mentioned before, I've been teaching my teenage daughter to drive my old, beat-up, stick-shift Beetle. We — or rather, I — had a breakthrough yesterday. Our driving course for the day was a half-built housing development that maybe went bust during the crash. At any rate, there are acres and acres of perfectly beautiful roads with no houses and no traffic, so it's ideal for learners.
The kiddo made it to third and then fourth gear and was navigating traffic circles, stop signs, turns, etc., like a pro. At one moment, we were tooling along a straightaway, and I realized there was something missing, and suddenly it hit me: I was relaxed. The thing that was missing was that overwhelming, barely repressed sense of panic. Progress!