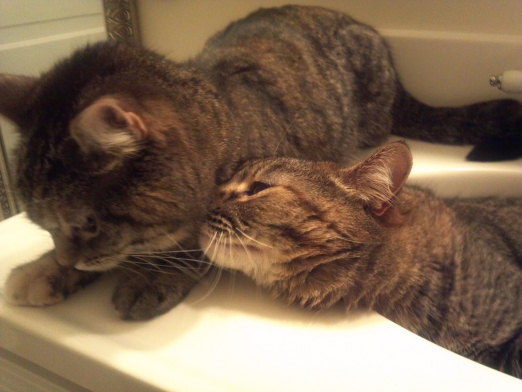 From commentor Rihilism:
I wrote to you some time ago about my two cats, Irina and Masha. Unfortunately, I am unable to house or take care of them or find them new homes, so they have been staying with a friend who already has a dog and three cats. My friend has a small house and the living arrangement has become unworkable. This means we may have to bring my cats to a shelter. I'm desperate to find a home for them in the Iowa City – Cedar Rapids, Iowa corridor and was hoping you might repost their images along with a brief description of each kitty. The following is a description I've been using on Craigslist to try to find a home. Any help would be greatly appreciated…

Two beautiful Torby sisters. Approximately 4 years old. Sweet dispositions, very affectionate. Litter box trained, spayed. May adjust to other pets given patience and time, (i.e.: foster home has a big lab that they've come to trust). Looking for a good home(s), separate or together.

Irina is the bigger sister. Calm and clever, sweet and gregarious. She's a buddy cat who likes to hang out with you. Loves to play, easy going and active, she'd make you a perfect pal. Looks you directly in the eye when you talk to her. Loves to 'strike a pose, so she is easy to photograph. Lap kitty.

Masha is the littler sister, a bit shy but very affectionate. This kitty seems like a gymnast – long and slender, agile and loves to climb up above the action, when not part of it. Very smart cat who has been known to play fetch. Loving and sweet too, she's always up for a good petting. Shoulder kitty.
If you are interested / have any leads / know about no-kill shelters in the area, contact me at [email protected] (click on my name in the right-hand column under 'contact'), and I'll put you in touch.
If there's an issue money can solve — transportation, for instance — I'm in for $100.