Here's an "action" shot of Steve after I finished brushing him. He's growing out this supremely awesome mane for the winter, and when he walks around the house after I brush him, with his multiple toed paws and that big floofy head, he just makes me think of Aslan without the pious bullshit and CS Lewis religious flair: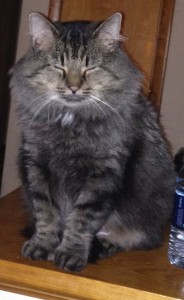 He's really a beautiful animal, and very sweet and loving. If you look at that picture, you can see his what I call "Tunch Spot," this white patch in the middle of his chest, which makes me think that Tunch drove me to him.
Stop laughing. Half of you believe in an invisible sky deity.
I seriously am in love with Maine Coons. I want another. I've never had a cat who just wanted to be with me this much- Tunch was around me all day, I thought, until I met Steve, who is just on top of me all day long. And he just loves his brushings, which I think are more therapeutic for me than they are for him.
He also "owns" me in a way Tunch never did. Tunch would sleep next to my head and purr. Steve sleeps on my side and puts his paws and head on my chest as if to claim me. Tunch would sit on my lap. Steve sits on the arm of the chair with his butt on my thigh and his over-sized mitts on my arm, again, as if to claim me. And from what I have read, this is not an anomaly for Maine Coons.