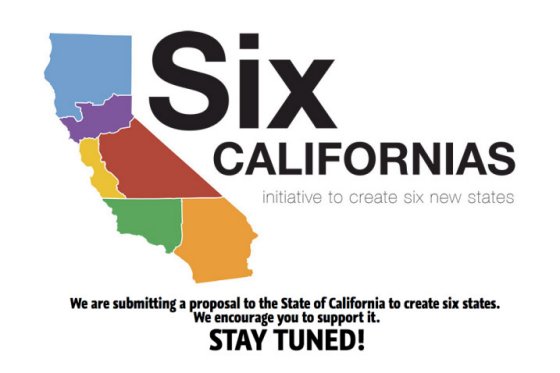 Chewtoy for the bored BJ masses. Things have been so busy over the last couple weeks that I missed posting this earlier, but Kevin Roose at NYMag had fun with a late entry in the 2013 Libertarian "More Money Than Sense" sweeps…
Tim Draper, the third-generation venture capitalist and Silicon Valley money man behind companies like Skype, Hotmail, and Tesla Motors, is no stranger to throwing tons of money behind crazy-sounding ideas. A decade ago, he spent $15 million of his own money trying to pass a school-voucher program in California. When that failed, he launched the Draper University of Heroes, a wacky school for start-up aspirants that I wrote about earlier this year. Now, after leaving DFJ, the venture firm he co-founded, Draper has landed on his newest off-the-wall passion project: a legislative proposal to split California into six pieces, and make Silicon Valley its own state…

Draper's five-page plan is a little light on details. But among the things it calls for:

Splitting California into Jefferson, North California, Central California, West California (which would include L.A.), South California, and Silicon Valley.
A plan to divide up California's existing debts according to the number of people living in a given region, and assign the state's assets to each new state based on the companies inside them.
Draper himself would get a new title, "agent of the state of California," which would make him eligible to usurp California's existing attorney general with a lawyer of his own choosing, for the purposes of defending the Six States plan…

.
…[I]t's a passive-aggressive swipe at the less economically productive regions of California, cloaked in a measure that purports to be good for all citizens of the state. Tim Draper wants the protection afforded by the United States government, without having to submit to the taxes and regulatory slow-footedness coming out of Sacramento. He wants Silicon Valley to be independent enough to play around with drones and genetic engineering, but not so independent that it needs its own military….
**********
Apart from thinking of all the better things you could do with Tim Draper's money, what's on the agenda for the evening?