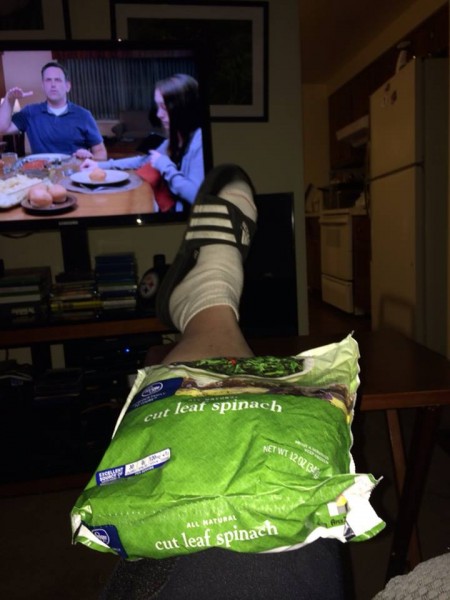 Spent the whole night icing and elevating the knee, and, as a survivor of a number of knee injuries over years of soccer, lacrosse, the military, and general clumsiness, it's starting to look like I didn't just stretch the ACL, but I may have shredded it and there may be damage to the patellar tendon and the IT band. Again, just self diagnosing, but this ain't my first day at the rodeo and I did drive myself to the hospital after shredding my shoulder in another pet related injury, so while a commie liberal cat lover and criminally accident prone, I'm not a total Nancy Boy.
At any rate, it's immobilized and I have had frozen veggies on it almost all night, and usually after a couple of hours if it is just a strain it will start to calm down a bit, but this one isn't. On the up side, I am using the walking stick Walt bought me, so that is cool. When I take the brace off, though, I can see the bruising, so I'm reasonably sure that come Monday or Tuesday, I am going to cover my annual insurance deductible.
Having said all that, while I was sitting here motherfucking everything and being generally pissed off about the situation, I was stationary (more so than usual, because it hurts to move) and I had time to think. And I reflected on this. Here are some of the changes brought about by the ACA aka "OBAMACARE":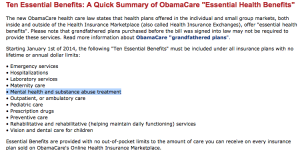 My knee hurts like hell, and maybe I am a strange breed, but I can deal ok with physical pain. Yeah, it hurts, and I bitch about it and drama queen it up when I can, but seriously, just follow the old comedy routine and don't do whatever you are telling the doctor it hurts to do when you do it. But there was nothing worse in my life than the summer I sat, cringing in horror, taking cold showers every twenty minutes and hugging Lily underneath the comforter while I went through multiple panic attacks every day before having my my Generalized Anxiety Disorder (and other things) diagnosed and started to receive help.
Which I did, because I had insurance. So yeah. The Health Care website roll out sucked. My knee hurts.
But let me regain some fucking perspective, and think how lucky people are now compared to just a few years ago. And again, those of you who are in the know will back me up- I will take a bum knee over the psychic pain that who knows how many people went and go through without help. And now they don't have to. Shit is still fucked up and bullshit, but it is getting better.
So if you wouldn't mind, please pass me the frozen peas. The spinach is getting warm.
Perspective.