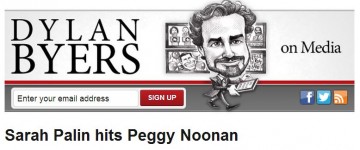 Perhaps this is a silly personal pet peeve, and lord knows it's the least of Politico's sins. But if I see this headline, I want to read an account of Sarah Palin flooring Peggy Noonan with an uppercut to the jaw. (It would also be cool if Noonan rose up from the mat, kneed Palin in the cooch and executed a pile-driver.)
That's what "hit" means, not opening up a rarely closed piehole and letting more stupid dribble out. I also hate the term "baby bump," but in defense of those who use it, there aren't that many short, snappy substitutes. The same cannot be said of "hit" used in the context above: insults, taunts, heckles, jeers, etc. — all better choices, Mr. Byers.
If you were Language Emperor, what common expressions or usages would you banish from the English language?