As a teenager, the NRA's top lawyer used stolen guns to commit a robbery at a restaurant, shoot a pawn store owner in a hold-up and murder his girlfriend's mother. After his arrest, he led police to the buried murder weapon, but shoddy police work sprung him after he was convicted and spent several years in jail. Mother Jones has the story here. An excerpt:
[Robert J. Dowlut] "is the general counsel of the National Rifle Association. As the NRA's top lawyer, he has been a key architect of the gun lobby's campaign to define the legal interpretation of the Second Amendment. He helped oversee the NRA's effort to strike down Chicago's handgun ban in the 2010 Supreme Court case McDonald v. Chicago, and he is the longtime secretary of the organization's Civil Rights Defense Fund, which has spent millions assisting gun owners in court and sponsoring gun rights researchers. Dowlut's journal articles have been cited by federal judges and are quoted by pro-gun activists.
Here's Dowlut (standing, second from right) in an NRA "Fantasy Supreme Court" photo: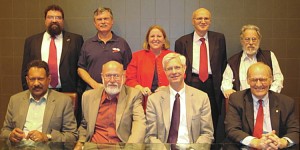 It's unsurprising that the NRA is a sociopath magnet. Will the revelation that a murdering bandit spearheaded the NRA's transformation from a sportsmen's organization into a death-merchant lobbyist group lessen its political influence or at least prompt LaPierre to suggest that Dowlut spend more time with his family? Probably not.
Cole once said we'd never make progress on the gun control issue until association with the NRA was as toxic as KKK membership. That day can't come soon enough.