Today is "The Day" — that special day when a Floridian who has spent months trudging through the sun-blasted hellscape of a Florida summer exits her air-conditioned home and finds that her glasses don't immediately fog up and that there is a hint of something in the air that is, if not crispness, exactly, the hint of crispness to come.
Just because The Day is here, that doesn't mean it won't reach 95 degrees today, next week or even next month. It may very well be hot enough on Halloween to rot porch-dwelling jack-o-lanterns in less than 12 hours. But we still rejoice in The Day because it signals that summer has broken, like a fever. I'm sure you snow-country people experience your own version of The Day as spring approaches.
This afternoon, my siblings and I will be wolfing down BBQ and swilling beer, then taking our seats at The Swamp to watch the Mighty Gators stomp Kentucky, we hope. What games are y'all watching? Who shall prevail?
Speaking of college football, someone hacked Alabama's site and altered the entry for Lane Kiffin: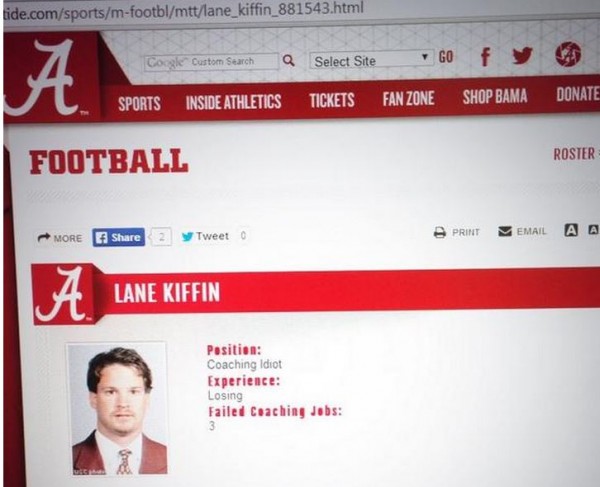 Tee hee.
In case you missed it last night, valued commenter Satby needs some assistance with her rescue animals. She's almost reached her goal. You can put her over the top by donating here.
Please feel free to discuss whatever.