I'm watching Monica Crowley and Pat Buchanan on the McLaughlin group and so help me God, I am praying for a dirty bomb in Georgetown.

These people will destroy us all.

Don't be fooled by Obama — we are fucked.
***
I read this yesterday and started to write about it and forgot to publish it because I got distracted (oh look- a squirrel), but you really have to read this article to believe it. Basically, Caroline Felsenthal has a fact free piece up at Politico demanding that President Obama fire Valerie Jarrett because. And no, that is not a typo, that is her entire argument. "Fire Valerie Harrett- because…" See for yourself:
Almost since the start of Barack Obama's presidency, people who have actual, real duties in the West Wing of the White House—the working, executive part of the government, that is—have been urging him to do something about Valerie Jarrett. Push her into the East Wing, where she can hang out with Michelle Obama and the White House social secretary, or give her an ambassadorship—or something—but for Pete's sake get her out of the way of the hard work of governing that needs to be done.

Now it's really time to do it.

Let's stipulate right away that it would be unfair to blame Jarrett, the longtime Obama family friend and confidante, for the walloping that the president and his party suffered at the polls on Tuesday. And Jarrett will no doubt be needed in the weeks ahead to comfort her old pals, Barack and Michelle. What happened on Tuesday almost couldn't be worse for Obama personally—not just the Senate's going Republican but all those governorships lost, including Illinois Governor Pat Quinn's defeat in Obama's adopted home state, even after the president and first lady came to Illinois to campaign for him. The morning after the elections, Democrats and their top staffers were hopping mad, blaming Obama and, by extension, his staff for the defeat.

But let's also face facts—and expect the president to do so as well. We're at that point in an already long-toothed presidency when things inside really need to change. In the days before anyone knew how brutally the Democrats would get beaten, politicians and staffers and pundits were urging a shakeup of the White House staff.

This is, after all, a time-honored practice for an administration in trouble. Somebody's got to take the blame other than president, who's not going to resign himself. Past presidents who fared badly in midterm elections have not been shy about making high-level changes—George W. Bush fired Defense Secretary Donald Rumsfeld after the 2006 midterms and also replaced his chief of staff. Presidents Dwight Eisenhower and Ronald Reagan at the same low point in their administrations replaced their chiefs of staff when they failed to perform up to expectations or fell from grace. George H.W. Bush did the same to chief of staff John Sununu.
So it would be unfair to blame her, in fact there is no reason to blame her, and there is no evidence that she has done anything wrong or led Obama astray, but fire her anyway because, well fuck it. Just fire her.
A couple of quick notes- notice the inherent sexism in the piece. Throw her into the East wing with the ladies and get her out of the real job of governing. Because…
Also, maybe we should re-examine all of her examples of people who have been fired. Donald Rumsfeld was fired after the elections because of gross incompetence, lack of planning, torture, and basically his handprints were on everything that was fucked up in Iraq and the Pentagon. Not only that, but you can trace a DIRECT line to the thumping the GOP took in 2006 to Donald Rumsfeld. I recommend googling the Generals Revolt, Caroline. You might learn something.
John Sununu was fired because he was a disaster- between his using the Air Force as his own personal jet and the fact that the WH was in complete disarray mere months after Bush had extraordinary poll numbers after Iraq v. 1.0, and because there basically was no domestic policy that could be pointed to beyond the flip flop on "No new taxes." It's more complicated than just that, but the lack of an economic plan was the truth (that also became a beltway narrative to the point that we had nonsense like the grocery scanner nonsense in the press), including the fact that Sununu was a complete asshole, but there was a reason to can Sununu.
And so on. These individuals were fired because there was a reason for them to be fired, unlike Jarrett. And in the second paragraph, the author admits as much, noting it would be unfair, but then plowing again and demanding she be fired for the kind of banalities that are the received view in the beltway- "to shake things up" and that "it appears that Jarrett has been more an obstructer than a facilitator…" Whatever the fuck that means, but don't expect Caroline to tell you. She just read it in books written recently, including Chuck Todd's new fact free static display of beltway conventional wisdom (if you want to read a delicious review of Todd's hate crime against trees and your common sense, I highly recommend this Columbia Journalism Review titled "Chuck Todd's Obama book says more about the author than it does about the president.").
So when you boil it all down, what you are left with is "Fire Valerie Jarrett. Because." That's it. That is really all there is to the piece. It's just a mean, petty hit job that makes you want to sit Caroline Felsenthal down in a private room and ask her to show you on the doll where Valerie touched her.
I'd normally end the post right now, but there is something else that needs to be discussed about Ms. Felsenthal and her piece. When I initially read this yesterday, I chortled at a specific line because it was such a ridiculous argument to fire Jarrett. When I revisited the article today, oddly enough, it was gone. I thought I must be hallucinating, because I swore I could remember that being in that article. So I did a little google fu, and guess what? I found the line that has been deleted- deleted and just made to go down the mystery hole with no acknowledgment whatsoever in the piece. Let's take a look: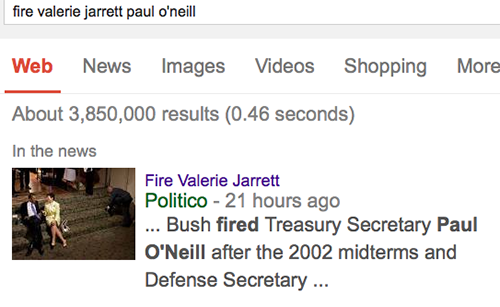 See what happened there? The original piece said:
Past presidents who fared badly in midterm elections have not been shy about making high-level changes—George W. Bush fired Treasury Secretary Paul O'Neill after the 2002 midterms and Defense Secretary Donald Rumsfeld after the 2006 midterms…
The new and improved version states:
Past presidents who fared badly in midterm elections have not been shy about making high-level changes—George W. Bush fired Defense Secretary Donald Rumsfeld after the 2006 midterms…
You can see why I laughed, of course. George Bush Darth Cheney fired Paul O'Neill for… telling the truth:
If anyone would listen to him, Paul O'Neill thought, Dick Cheney would. The two had served together during the Ford Administration, and now as the Treasury Secretary fought a losing battle against another round of tax cuts, he figured that his longtime colleague would give him a hearing.

O'Neill had been preaching that a fiscal crisis was looming and more tax cuts would exacerbate it. But others in the White House saw a chance to capitalize on the historic Republican congressional gains in the 2002 elections. Surely, Cheney would not be so smug. He would hear O'Neill out. In an economic meeting in the Vice President's office, O'Neill started pitching, describing how the numbers showed that growing budget deficits threatened the economy. Cheney cut him off. "Reagan proved deficits don't matter," he said. O'Neill was too dumbfounded to respond. Cheney continued: "We won the midterms. This is our due."

A month later, Paul O'Neill was fired, ending the rocky two-year tenure of Bush's first Treasury Secretary, who became known for his candid statements and the controversies that followed them. Rarely had a person who spoke so freely been embedded so high in an Administration that valued frank public remarks so little.
So you can see why Felsenthal and the Politico edited the piece without acknowledging the changes. If you are going to write a fact free, anonymously source, petty hit piece, the last thing you would want to do is to accidentally attribute to Jarrett the qualities of prescience, honesty, and straightforwardness. That wouldn't, as the hacks at Politico like to say, "fit the narrative."