Front page news in our local rag: an idiot in Tampa set up a website that urges people to purchase cigars that the site will then forward to Hillary Clinton's campaign headquarters. Why cigars? Because Bill Clinton famously cheated on the cackling shrew in 1998 (who could blame him, amirite?), and there was a cigar involved (hur-hur, geddit?), and this is SEE-gar City.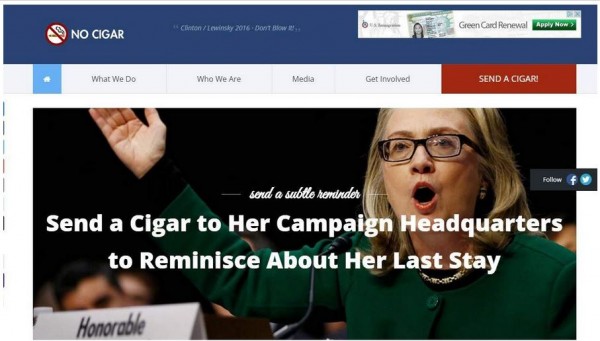 While the site contains some information about the supposed sins of Hillary Clinton herself (in the form of regurgitated Fox News talking points), the copy and graphics focus mostly on Lewinsky and blow jobs, giving the impression that Hillary Clinton's primary transgression was marrying a horn-dog.
The site owner-moran claims his scheme is about more than putting an uppity bitch in her place — it's to raise money for a "military-related charity." Alas, an excerpt from the site:
Our originally intended charity has asked that we do not donate our proceeds to them; as such we are actively seeking new charities benefiting Veterans.
It was the Wounded Warrior Project that declined the donation, and good for them. The site owner claims to be a libertarian, so he'll probably just form his own charity and pocket the funds as Baby Jeebus prophesied in the Book of Rand.
ETA: And now the cigar company, J.C. Newman Cigar Co. of Ybor City, has declined to participate as well, and good for them. Looks like "no cigar" for the No Cigar circle o'jerks.