I know, I know — bullshit horse race story from the most disreputable pack of lame hacks in the Beltway, and you've got more important policy-related considerations to weigh in your beautiful mind, but this story is too delicious NOT to share:
Campaigns erupt over greenrooms at third GOP debate
Aides to Chris Christie and Rand Paul complain their work spaces look like bathrooms.

During a tense 30-minute meeting at the Coors Event Center, which was described by three sources present, several lower-polling campaigns lashed out at the RNC. They accused the committee of allotting them less-than-hospitable greenroom spaces while unfairly giving lavish ones to higher-polling candidates, such as Donald Trump and Ben Carson.

The drama began Tuesday afternoon as RNC officials led campaigns on a walk-through of the debate site. After touring the stage, candidates got a peek at what their greenrooms looked like.

Trump was granted a spacious room, complete with plush chairs and a flat-screen TV. Marco Rubio got a theater-type room, packed with leather seats for him and his team of aides. Carly Fiorina's room had a Jacuzzi.

Then there was Chris Christie, whose small space was dominated by a toilet. So was Rand Paul's.

[snip]

"This is ridiculous," fumed Christie's campaign manager, Ken McKay. "We're in a restroom."

Paul's team also piped in, with one adviser, Chris LaCivita, demanding that something be done to remedy the situation.
Here are the spaces in question, Chez Trump on the left and Paul Villa on the right: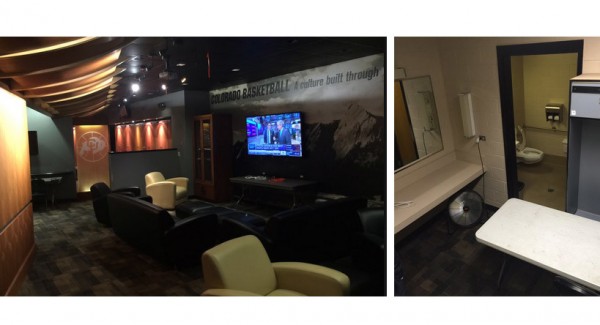 Santorum, Jindal, Pataki and Graham couldn't be reached for comment as the Port-O-Let, dumpster, packing crate and sewer drain in which they were housed lacked phone service and Internet access….