I thought we could all use a mid evening snack! So here's the tiramisu I made for a family dinner last week. Or what was left of it…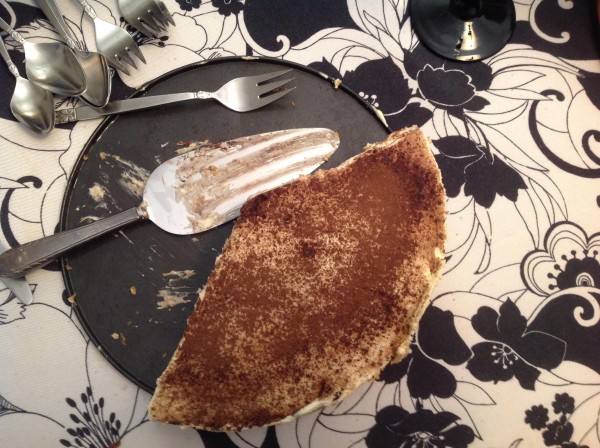 I learned this recipe from a a Spanish friend in Belgium. She was the wife of one of my aikido seniors and made it as a Sunday luncheon dessert one weekend when I was there training with my senseis (my original senseis were a husband and wife from Brussels). Anyhow, this is a very quick and easy recipe, but the results are rich and elegant.
Ingredients:
3 8 oz tubs of mascarpone cheese. (I use the regular, but sometimes you can find it coffee flavored and sweetened a bit. Both are made by Bel Gioso.)
3 eggs separated into whites and yolks
1 cup of sugar
1 tsp of vanilla
2 packages of the dry/hard lady fingers. (If you can't find these, the following will do in a pinch: biscotti, nilla wafers, the soft/spongy lady fingers, pound cake, angel food cake.)
2 cups of very, very strong coffee or espresso.
Directions:
Separate the eggs into whites and yolks. Set the yolks aside and beat the whites until you have a stiff peaked meringue. Set the meringue aside in the fridge. Combine the yolks, the mascarpone, the vanilla, and the sugar in a mixer and whip until you have a smooth custard. Fold the meringue into the custard. Set the custard aside in the fridge. Cover the bottom of either a half hotel pan or a 9 or 10 inch round spring form pan with the lady fingers that you have individually dipped into the coffee. Then spoon 1/2 the custard onto the lady fingers and smooth out with a spatula. Cover this layer of custard with lady fingers dipped into the coffee. Then spoon the remaining custard on top and smooth out with a spatula. Traditionally you would then dust the top with cocoa powder. Then set into the fridge and let set up for at least two hours.
That's it. Enjoy!
For those that prefer adding alcohol, which is sometimes done, add the coffee flavored or coffee flavor complimenting liqueur of your choice to the custard: Kahlua, Amaretto, or Baileys. If you're really looking to get ferschnikerred mix them all into the custard!