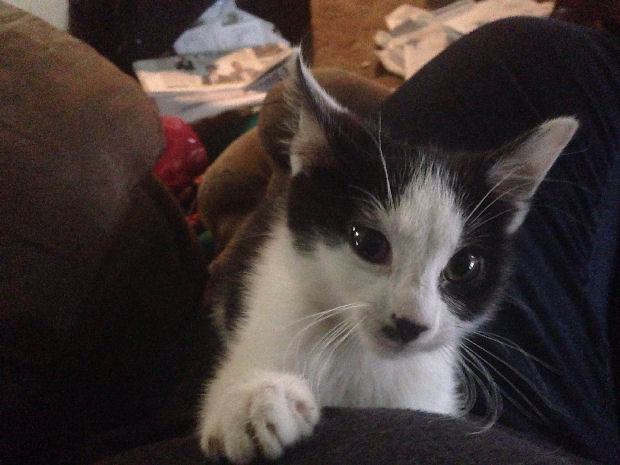 Former lurker Alien Bunnyman:
Hey, some old neighbors of mine recently had a kitten follow them home and no one's responded to the signs. They can't keep it, and when they asked me if I could or if I knew anybody who could my answer was a sad no.

They don't know quite how old it is, but they're guessing a couple of months. From what I've seen it's pretty energetic (I don't think I ever saw them tire it out) and very affectionate. It very much likes to climb into people's laps and nap and purr up a storm. Actually it just likes climbing people in general, (I saw it perched on several shoulders while I was in its presence) so anybody who would take it should probably invest in a cat tree if they don't have one already. Also nail clippers, as soon as possible, because ouch. It is very litter box trained and has a somewhat silly personality. I think if you have the energy and attention it needs it would make for an awesome pet.
If you're interested in this little guy, know someone who might be interested, or have advice on good shelters / fosters in the area, leave a comment or email me (click on my name in the right-hand column, or annelaurie at verizon dot net).
As always, financial assistance towards the costs of that nail clipper and other necessary veterinary or transportation costs can be arranged, if needed.