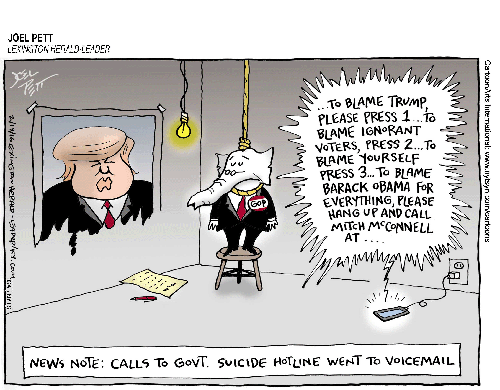 Trump received more votes than the total GOP turnout in 2012! There's something happening here, and what it is is starting to become clear.

— Jon Ralston (@RalstonReports) February 24, 2016
Mr. Charles P. Pierce, at Esquire, QFT (Quoted for Truth):
… Who looks after shitkickers like you?

In his magisterial biography of Huey Long, which I would advise everyone to read before this presidential election gets completely out of hand, T. Harry Williams explains the thinking behind the long game that the Kingfish saw himself playing as the Great Depression played out… The energy behind the two men is as similar as the parallel is inexact.

Huey Long actually did come from the ranks of the poor and dispossessed that he later enriched himself by championing. He relentlessly vilified the economic and social elite, first in Louisiana and then in the entire country. He, Trump, on the other hand, was a child of that elite, and he had never departed from it, except in his public persona, which is where we find him now. A huge portion of the Republican electorate—and, sadly, a not-insignificant portion of the American people—wants a strongman, the more vulgar the better. Huey Long came by his vulgarity naturally. He, Trump has had to work at it, buying bad taste by the bucketful with his millions and coming to embody it the same way the Kingfish did. I am one of you, they both said, you poorly educated suckers. Look how common and vulgar I am… In the Republican party in the year of our Lord 2016, He, Trump is simply the man of the historical moment.

And why shouldn't he be? For the past 30 years, the country has been told that its government is a strange, alien beast with little or no connection to the lives of the people of the country. At the same time, a series of political developments—most notably, a couple of dreadful Supreme Court decisions—has validated that argument by blocking the basic avenues of self-government with great barricades of unaccountable cash. At the same time, the country was encouraged by politicians of both parties to look at the political process as a television show. And now we're surprised that a guy who made his living at the latter has become successful at promoting the former?…

…[T]he only way to stop He, Trump is to give up on the twin fictions that have given him life—that government is something alien to us, instead of being the political manifestation of the popular will, and that elections are purely entertainment. The only way to stop He, Trump is to re-engage as citizens of a self-governing republic again, to realize that politics matter and that voting is more than an excuse for the PTA to run a bake sale. It is not time to make America great again. It's time to make America America again…
Republican caucus-goers in Nevada are older and angrier than in previous GOP contests https://t.co/19B8JMBJc9 pic.twitter.com/aSrO8XcDrN

— NBC News (@NBCNews) February 24, 2016
Jon Ralston, Nevada maven, at the Reno Gazette-Journal:
… Trump… gave an unfortunately apt salute to the Silver State, declaring during his victory speech, after his habit of rattling off polling crosstabs, "I love the poorly educated."

Forget "Battle Born." Forget "All for Our Country." We have a new motto: "Nevada — The Poorly Educated State."

To understand Trump's appeal here and elsewhere is to listen to him while he was in our benighted state as he played to his usual teeming throngs, mused about punching a protester in the face and treating people like it was the good old days. All I could think of as I watched Trump's smashmouth speeches is how I occasionally hear people wistfully long for the days when "the mob ran Nevada," as if things were better then. Yes, people – or too many of them – believe Teflon Don can make the trains run on time in the country and if you don't like it, you should be consigned to a proverbial (I assume not literal) desert dirt nap…

Cruz's subdued speech after his third-place finish was something even the slick senator could barely sell as he argued that his was the only campaign that could defeat Trump and that once he got home to Texas, he would be the lone star standing. And Rubio, who slipped off to Michigan before the counting began, was on television Wednesday morning talking about how quirky and weird Nevada is (guilty!), conveniently forgetting how he had claimed the state as his second home in the days running up to the caucus and how his campaign for months had whispered that he could win here….

Tuesday proved that despite the best efforts of Cruz and Rubio, Trump was unstoppable in Nevada. That, too, may prove to be synecdoche for the country, as the Establishment wails and whines and Trump storms toward the nomination.
All those "libertarians" who went for Sanders in New Hampshire have found a new hero in Trump in Nevada.

— AlGiordano (@AlGiordano) February 24, 2016
This isn't good for Trump in a general https://t.co/A2QFUMVqra pic.twitter.com/HlIz6NXM1x

— andrew kaczynski (@BuzzFeedAndrew) February 24, 2016
Remember when he disinvited Trump from his conference and that was the end of Trump? https://t.co/XbnR0WqCxJ

— daveweigel (@daveweigel) February 24, 2016
The fact that @ewerickson is miserable is one of my favorite things about this election.

— Josh Barro (@jbarro) February 24, 2016
I read too many "I will never vote for Romney" pieces in 2012 from people who supported Romney to believe the GOPe no-on-Trump-ers.

— Kevin Glass (@KevinWGlass) February 24, 2016