Someone in a thread or two below requested pet pix.  I guess the hope is to ameliorate the Heart of Darkness up-the-river vibe roiling the late-stage Republican primary.  A little relief from the ragegasms currently pulsating through (I hope, only) the most voluble of the Democratic and sporadically Democratic passionistas.
I share that hope, along with some of the my-party rage and plenty of horrified fascination with the their-party Totentanz. And so, as a kindness to myself and all of y'all, here's Tikka, in the position I imagine Reince Priebus ends up in at the end of each Oh-My-Sweet-FSM-This-Can't-Still-Be-Happening day.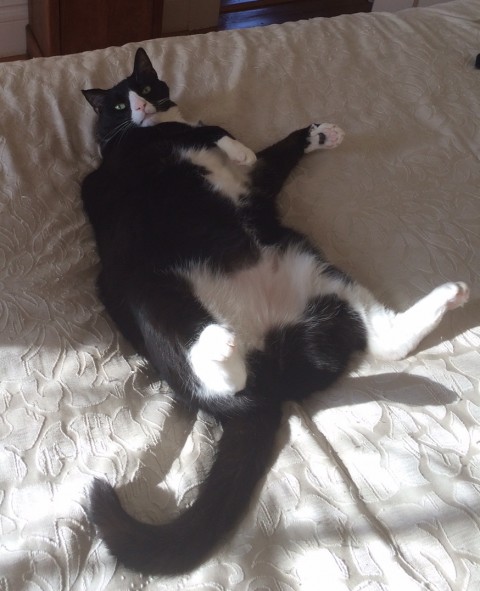 This one I caption "At Leest I Haz Mah Dignatee!"
And, for a slightly more elegant glimpse of the cat who would be the Donald's hair's most fearsome predator, were he only able to schedule the hunt between his naps:
Master of all Data at your service.
And with that — back to imagining Zombie Jefferson and Zombie Adams trying to find a snack at the Republican Convention this summer.  Can't help thinking about how such a gathering would be a diet camp for obligate-neuron-feeders.