Yeah, I know.  Cat blogging is Obama-first-term…
…but this morning the mighty Tikka captured the beating heartof cat-sunsplash interaction, and sharing it with y'all can only improve the afternoon: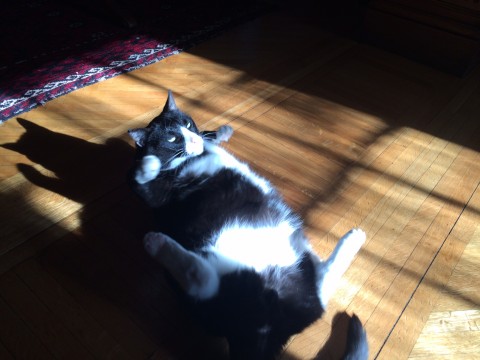 No body-image issues for that one.
Looking forward to celebrating my son's 16th birthday tonight.  It is, of course, an impossible number — how dare he age his father so! Channeling my inner Terry Pratchett, I blame quantum.
But it'll be joyous this evening.  Might even involve truffle fries, my boy's alpha and omega of foodstuffs.  Anything rockin' in your part of the world?
[
Obligatory sound track
,* from one band in my sprout's broad category of "old people's music" that the wretched mite has actually come to love.]
*Fooled ya, didn't I. You thought I meant this one.