In keeping with our occasional "Keep Thor in Thursday" theme, here's how my high schooler let me know she'd busted yet another goddamn iPhone screen earlier this week: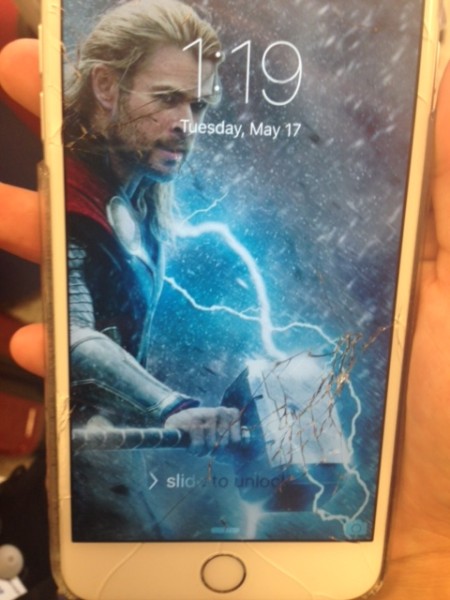 Clever girl — she knows I'm a sucker for Thor. After tomorrow, I won't be able to refer to the screen-destroyer as "my high schooler" anymore because she's about to become "my college student." Figgety fuck, how'd that happen?!?
Among Floridians, it's customary for kids who graduate to go to the beach for a week; there's even a catchy name for it: Beach Week. When I graduated from high school (during the Reagan administration!), some classmate's very gullible parents rented a posh three-story beach house for their kid's Beach Week. No one could have predicted that a horde of rowdy teenagers would descend to utterly trash it, but that's what happened.
I woke up early and surveyed the devastation. There were vomit stains on the carpet and curtains. The sofa had huge cigar holes burned in it. The tile was cracked where someone had knocked a keg off the counter. Pictures were broken. A television had been hurled off a deck and was half buried in the sand. Glassware was obliterated.
I had not personally committed any of these atrocities, but I figured it was time to skedaddle. The parents who had been foolish enough to supply the staging ground for that night of mayhem later contacted all the kids who had been there to try to get money to offset the damage. I told them honestly I didn't have any money. Still feel kind of bad about that.
Now, in the fullness of time, it's my turn to watch a kid pack up for Beach Week, and I'm supplying the venue, which is the beachfront condominium of a relative. I am confident that my kid and her friends won't trash the place. These kids today with their stupid broken phones and their responsible behavior — they aren't assholes like we were. I blame Obama.
Open thread!