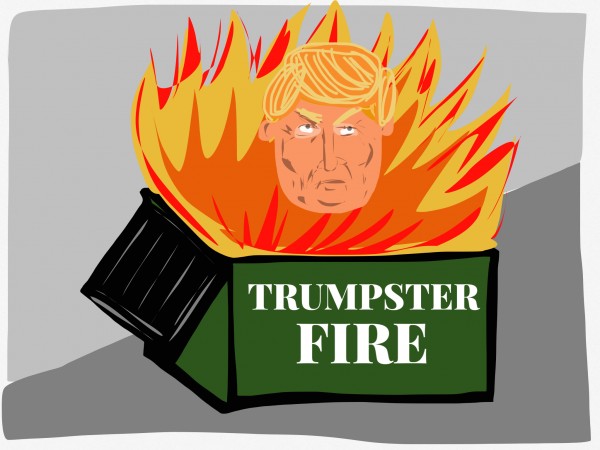 Josh Marshall over at TPM says Trump is going all-in on blaming Hillary Clinton for Bill Clinton's past sexual indiscretions / alleged abuse as a form of dominance politics, which is what he (Trump) has practiced all along:
As I mentioned yesterday, the three big networks and in fact the major national dailies continue to blast out Donald Trump's charges that Hillary Clinton's husband raped or assaulted other women. And yet, CNN, MSNBC, let alone Fox refuse to discuss that at least twice Trump has himself been accused of sexual assault or rape in sworn statements – once by his wife and again a decade ago in a lawsuit brought by a woman named Jill Harth. But in discussing how to approach the issue of how to approach Trump's history of accusations of sexual violence or harassment the question came up, what exactly is Trump trying to accomplish by using Bill Clinton's past against Hillary?

[snip]

In a sense, how galling it is for Clinton to be attacked for her husband's infidelities or transgressions is, to use the tech phrasing, a feature not a bug. It makes his demonstration of power all the more vibrant and bracing. It kind of takes your breath away. And that's the point.

This is the ultimate gendered election. As Frank Foer explained in March, denigrating attacks on women are the one consistent theme throughout Trump's entire public life. They're not tactical or opportunistic. They're part of his essence. What makes the general election contest more volatile and febrile is that not only is Trump basically the embodiment of 'dominance politics' and assertive violence. But Clinton, for all the toll the last two years has taken on her public popularity, is still seen as strong and a strong leader by a majority of the public. As I've written in similar contexts, when we look at the messaging of a national political campaign we should be listening to the score, not the libretto, which is, like in opera, often no more than a superficial gloss on the real story, mere wave action on the surface of a deep sea. You're missing the point in trying to make out the logic of Trump's attacks on Clinton. The attacks are the logic. He is trying to beat her by dominating her in the public sphere, brutalizing her, demonstrating that he can hurt her with impunity.
That's part of it, but I don't think it's the whole story. Trump realizes he's deep underwater with women voters. He knows he can't win without enticing a significant number of women to vote for him. And he's trying to neutralize any gender solidarity advantage Hillary Clinton might enjoy by making her a party to Bill's bad behavior, not a mere victim of it.
The need to dominate and humiliate is a sign of the bully that is ever-present in Trump and essential to understanding his actions. But there's a strategy there, too, and if the media continue to give Trump a pass on his own behavior while allowing him to accuse Bill Clinton with impunity and implicate Hillary Clinton too, it may work better than it should.