Attention conservation notice (thanks, Cosma Shalizi):  What follows is some political naval gazing, a trip down memory lane to scan the GOP primary just gone by.  The TL:DR — what a craptastic effort by all concerned.  If you've nothing better to do, read on, and snark at will in the comments.
Not to aggrandize one of our more feeble trolls, but something that personage produced in a comment yesterday caught my eye.  Donald Trump, we were told, more than once, is INVINCIBLE (sic on the caps and bold).
What convinced our troll of this fact?
That the Gauleiter of Midtown Manhattan had defeated "the deepest primary field in history" (quoted from memory).
Well, a ruby in a dungheap is still a gem, and that remark caught my attention.  So, in a waltz down memory lane, I went to look up that deep field, here in the order in which they formally entered the campaign:
Ted Cruz.  Jeb Bush.  Ben Carson. Chris Christie. Carly Fiorina.  Jim Gilmore. Lindsey Graham.  Mike Huckabee.  Bobby Jindal.  John Kasich. George Pataki.  Rand Paul.  Rick Perry.  Marco Rubio.  Rick "don't Google me" Santorum. Donald Trump, and Scott Walker.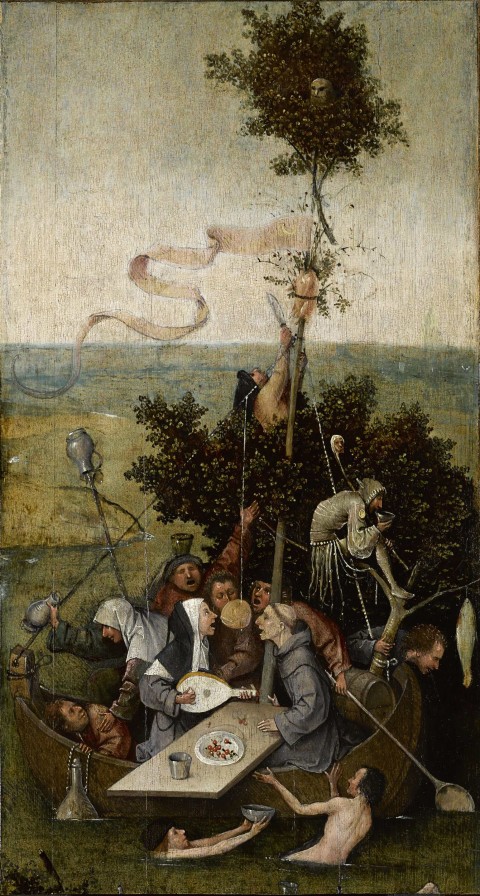 Let's review:
Ted Cruz, Marco Rubio and Rand Paul*:  first term senators of no accomplishment.
Carly Fiorina:  a failed business tycoon whose sole claim to fame is her near-destruction of one of the most respected corporations in tech.
Ben Carson:  a neurosurgeon who calls to mind the old joke:  "What's the difference between God and a surgeon?"  "God knows he's not a doctor."
Jim Gilmore:  Jim Gilmore.
George Pataki:  George Pataki.
Rick Santorum: where to begin? Lost his last election by 30 points or more; hasn't improved on extended acquaintence.
Chris Christie:  not yet indicted.
Rick Perry:  smart boy glasses didn't work.
Bobby Jindal:  Kenneth the office boy left the governor's mansion in Louisiana as the single most potent unifier in state history: everyone, Democrat, Republican, Martian, loathed this incompetent poseur.
Mike Huckabee:  book salesman masquerading as Torquemada.
Scott Walker:  goggle-eyed homunculus almost instantly revealed as a small-time grifter utterly unsuited for the big time.
That leaves four:  Jeb Bush, Lindsey Graham, John Kasich and the ferret-headed swindler himself.
Jeb?, Graham and Kasich had at least recognizably plausible credentials to mount a presidential bid.  Jeb, of course, was burdened with the worst name in politics, a record in Florida that mostly consisted of having the good sense to preside during a housing boom and to get out before the crash, and an easily torpedoed post-government high-class business-grift career.  Worst of all of course, he turned out to have zero talent as an actual working politician.
Lindsey Graham was always a "message" candidate.  Yes, he's a senator with actual legislative experience, and on paper he's at least plausible.  But at no time did he actually capture the interest of a significant faction of the party.  It's conceivable, at least, that if the Republican field had been the same size as the Democrats — five at the most — he might have had a chance to move from being McCain's mini-me to some more plausible shot at the nomination, but if I were the Emperor of all the Indies, I'd be farting through silk, and that hasn't happened either.
John Kasich, as a lot of commentators pointed out, was the most plausible "conventional" candidate on a paint by numbers sort of analysis:  federal experience, re-elected as governor of a large, diverse and swing state, actual policy knowledge.  (All bad policy, of course, but at least he understands the task.)  For all that's wrong with him on his actual merits, I can't deny that at the start of the campaign season, he actually appeared to be someone who could say "I'm running for president" with a straight face.
Hence the obvious response to "INVINCIBLE!"  This was the political analogue to a boxing undercard of stiffs, tomato-cans, punchers with slow feet, cuteys better at dancing than fighting and so on.  These were the bouts you arrange so as not to undermine the confidence of a still-raw devotee of the Sweet Science.  They were, as it turned out, palookas.
IOW:  A well-stocked bench does not equal a strong bench, and it's worth thinking about that a little as we move on to the general.  The Republican party is in a dominant position in state governments and in Congress.  Despite that, it has a dearth of those who can plausibly put themselves forward as national leaders.  And it's not getting better with the up-and-comers.  Sasse?  Cotton?  Ernst? New Mexico's Martinez, in a party now led by an anti-Latino bigot…and so on.
Or think on the surrogates the two nominees-presumptive can bring to bear on the campaign at hand.  As lots have noted, Hillary gets POTUS, FLOTUS, Uncle Joe, Senator Professor Warren, and some guy named Bill as her starting five.  Combover Caligula (thanks Betty!)? Chris Christie. Somebody.  Somebody else.  Somebody's twin nephews.  Or, if we take his former rivals expressions of support seriously:  Christie, Rubio, and I don't know, maybe a couple more.
I'm not writing this to gloat or to suggest that the election is over.  It's not.  Trump is many things, but what makes him dangerous is that he has a dedicated, too-large base of support he knows exactly how to motivate.  We let our guard down, he and they win; the country and the world loses.
But that phrase "a deep bench" still needs examination.  The 2016 Republican primary is, as our troll suggests, a measure of the state of the party.  There's no doubt it commands power. What's striking, though, is how thoroughly mediocre are those who wield it.
Which is, of course, why they must be destroyed, their cities sacked, and their fields sown with salt.
Factio Grandaeva Delenda Est.
*Via commenter Richard Grant, "Rand Paul, whose latest accomplishment was blocking The Frank R. Lautenberg Chemical Safety for the 21st Century Act…"
Image: Hieronymus Bosch, Ship of Fools, c. 1494-1510.