So I took Steve to the groomers for his appointment this afternoon, and when I was there I showed them all the problem areas and all the places that pine sap had created issues, and basically said that I would prefer to not shave him but to just do their best and use their best judgment. I went and did some errands, came back, and found this: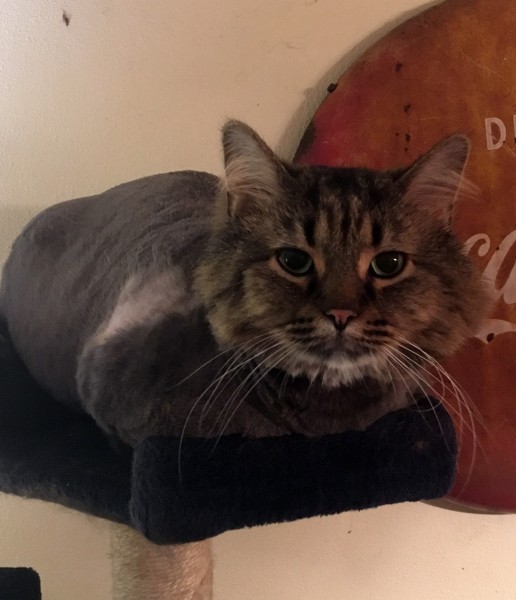 When I walked in, the groomer had a distressed look on his face, and point blank said "I'm afraid we didn't have many options." Apparently Steve vomited twice during the bathing, trimming, and shaving, and then when they were all done and blow drying him he had projectile diarrhea, which the groomer described with some eloquence, stating "It came out thick like pepto bismol and for a while we didn't think it was going to stop." I think it was just the stress of it all that got to the poor guy. It's loud with lots of animals and people making a racket, and he was meowing when I got him, but then quiet for the whole ride home.
The one thing I noticed is that he really isn't as fat as I thought he was. He's just really, really big. Harry (my vet) told me he wasn't that overweight, but I never believed him because the coat made him look so big, but now seeing him shaved, I think he's right. I never realize just how muscular his front shoulders are.
At any rate, he's already playing with Thurston and acting like he owns the damned house, so he seems to have recovered. More pics when I can get them.
*** Update ***
I forgot to mention, Steve doesn't use a litter box. He just goes outside and digs a hole under the trees and does his business. That's how he got sap on himself.
It's quite nice. For the first couple of weeks when I had him, I tried to get him to use the litter boxes, but he had no interest in them. He would wait by the door until someone walked by and bitch or paw at it, and we would let him out. Then he would sit by the door and wait until he could get back in. Sometimes he would come to wherever I was and tell me he needed to go out- bitch at me until I looked at him, I would turn towards him, and he would nod his head and walk out of the room, and I would say "Oh, he has to shit" and go let him out.
Now that he has the doggie door, though, he just comes and goes as he pleases. I wouldn't want to crap in a box, either. In fact, I have crapped in a box while I was in the Army (the ammo box shitter. I'll let Sooner explain). Steve has the right idea.