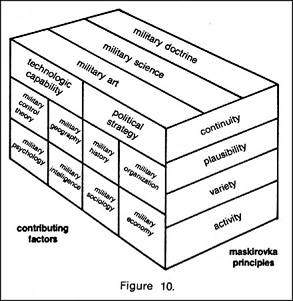 (Maskirovka Principles)
Newsweek's Kurt Eichenwald has just broken a story pertaining to Russian Intelligence's hacking, forging, and/or altering documents to influence the US election in collusion with Wikileaks.
I have written some really disturbing stories about Donald Trump. The one that is minutes away is even leaving my mouth agape.

— Kurt Eichenwald (@kurteichenwald) October 11, 2016
Of course, this might be seen as just an opportunity to laugh at the incompetence of the Russian hackers and government press—once they realized their error, Sputniktook the article down. But this is not funny at all. The Russians have been obtaining American emails and now are presenting complete misrepresentations of them—falsifying them—in hopes of setting off a cascade of events that might change the outcome of the presidential election. The big question, of course, is why are the Russians working so hard to damage Clinton and, in the process, aid Donald Trump. That is a topic for another time.

For now, though, Americans should be outraged. This totalitarian regime, engaged in what are arguably war crimes in Syria to protect their government puppet, is working to upend a democracy to the benefit of an American candidate who uttered positive comments just Sunday about the Kremlin's campaign on behalf of Bashar al-Assad. Trump's arguments were an incomprehensible explication of the complex Syrian situation, which put him right on the side of the Iranians and Syrians who are fighting to preserve the government that is the primary conduit of weapons used against Israel.

So no, Mr. Putin, I'm not Sidney Blumenthal. And now that you have been exposed once again, get the hell out of our election.
Russian govt put out propaganda w/ bogus email. It ends up in Trumps hands hours later, where he reads it to crowd. https://t.co/1d5qvU01Yi

— Kurt Eichenwald (@kurteichenwald) October 11, 2016
I'll have more on some of the current US-Russia impasse (hopefully) in regard to Aleppo tomorrow.