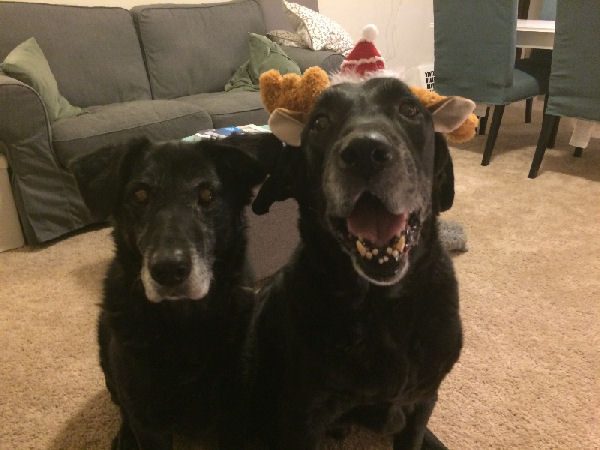 Sure, there are some dogs (hi, Ellie) who hold their dignity too high to willingly participate in these ridiculous human rituals. Walter says there's worse ways to spend one's days than with a full belly, a soft warm bed, and a household of welcoming companions.
(And if you send me a jpg of your holiday-celebrating household companions, yes I will front-page them, too also.)
Apart from happy rescue updates, what's on the agenda for the day?
***********
I owe a couple commentors a hat tip for this — If you are looking to make a year-end tax-deductible contribution to a very worth cause, consider throwing a few bucks or bitcoins at the people responsible for the Wayback Machine site:
You have come to the Internet Archive in search of knowledge, or perhaps to find a part of the Web you may have lost.For 20 years through the Wayback Machine, we've backed you up. Now we ask for your help in return.

The Internet Archive is a non-profit library with a huge mission: to give everyone access to all knowledge. By making a tax-deductible donation today, you can ensure that everyone has free and open access to information, forever.

The history of libraries is one of loss. Libraries like ours are susceptible to different fault lines: earthquakes, legal regimes, institutional failure.

So this year, we have set a new goal: to create a copy of Internet Archive's digital collections in another country. We are building the Internet Archive of Canada because lots of copies keeps stuff safe. To achieve our goal, we aim to raise $5 million by January 20, and we need your help to get there.

Right now a generous supporter will match your donation 1‑to‑1. So you can double your impact! For every dollar you donate right now, the Internet Archive will receive $2!…
Gosh, I wonder if there's any significance to that "January 20" deadline, she said piously.