On the Road is a weekday feature spotlighting reader photo submissions.
From the exotic to the familiar, whether you're traveling or in your own backyard, we would love to see the world through your eyes.
As long-time readers know, I enjoy bird watching, although I'm a rank amateur at it. I've attempted to share photos I've taken of birds here. But since I took the pictures with my iPhone and am a graduate of the Cole U School of Photography (not grifty like Trump U but the coursework is of similar quality), the images have been uniformly crappy.
If you've seen a good photo published by me on this site, it was almost certainly taken by someone else, forwarded to me, and published with attribution. The crappy, blurry photos? All mine.
One of you hilariously and accurately described a photo I published of an osprey as looking like something commissioned by Mrs. Osprey to a private detective. It's funny because it's true; since I was attempting to sneak up on the birds, they were giving me the stink-eye.
But through the miracle of Christmas, I hope to improve as a nature photographer in the coming year, having been gifted with a fancy new Nikon from the long-suffering Mr. C. Now I just have to learn how to use it.
Here's a photo of a collared dove (I think) who was perched on a wire quite some distance away:
And here's a mockingbird drinking from my birdbath — you can see a chicken butt in the coop in the background if you look hard enough: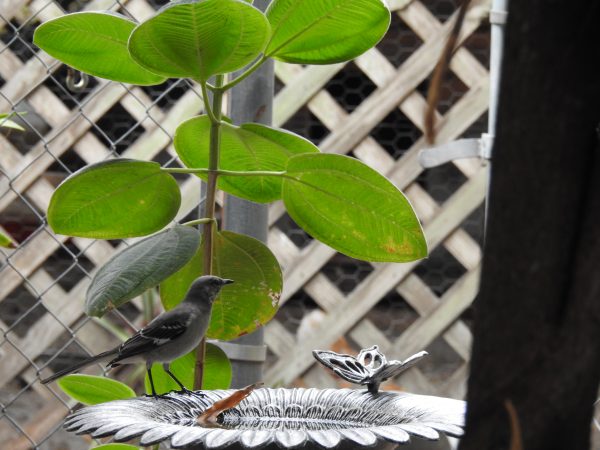 And here's an impressive owl: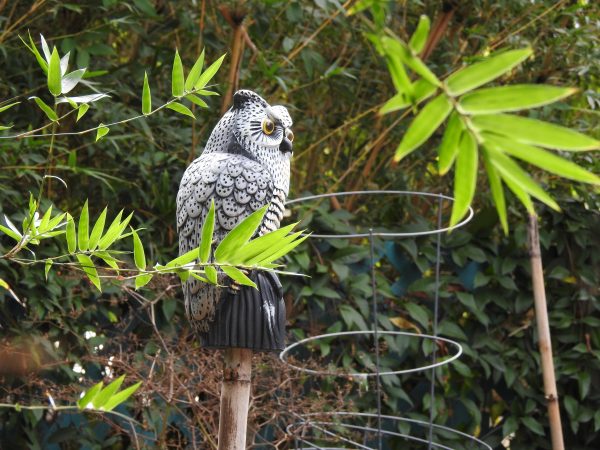 He's fake, of course — set there to scare critters off the mister's pepper plants and tomatoes.
Obviously, my technique needs work, but these pictures are better than iPhone photos, if only because the birds don't know I'm spying on them! If any shutterbugs among the commentariat (and we have some excellent ones, including Raven, BillinGlendale, JeffreyW, Cope and MANY others) would like to recommend books, sites, tips, etc., to help me improve, I think we'll all be better off for it.
We're in for a lot of ugly in the coming year, what with the Tangerine Tyrant and his pack of tacky-ass, parasitic grift-mavens descending on DC. I intend to seek solace from nature as often as possible.
Anyhoo. Open thread!
PS: The Pets of Balloon Juice calendar is here. Check it out!