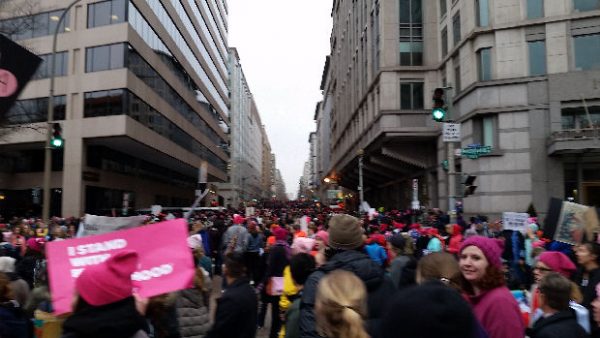 A few more photos of the Women's March in DC, courtesy of commentor ET.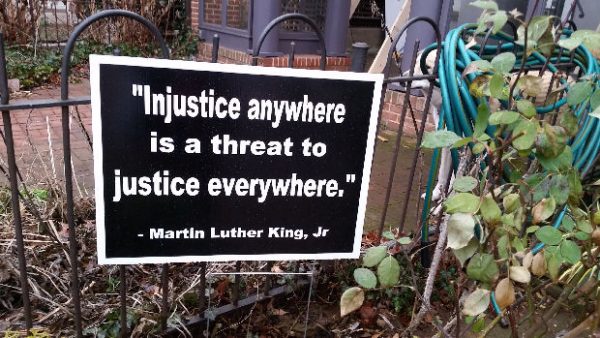 And an excellent reminder from Buzzfeed's Bim Adewunmi, "The Road Women Marched On This Weekend Was Paved By Black Resistance":
In the Culture galleries at the Smithsonian National Museum of African American History and Culture, there is a whole section on style. Written on a museum sign is a quote attributed to Tony Award-winning playwright George C. Wolfe, which reads: "God created black people and black people created style." On the eve of the Trump inauguration, black people came out in style, and gathered at the NMAAHC, nicknamed the Blacksonian, to attend the inaugural Peace Ball: Voices of Hope and Resistance, a "gathering to celebrate the accomplishments and successes of the past four years and the vow to continue to be the change we want to see in the world"…

… It felt fortifying, like an enriching blood tonic. "This is not a game. This is not reality TV," actor Danny Glover said to the crowd. Writer and activist Naomi Klein laughingly called the night "the eve of the apocalypse" before adding, more seriously, "Tomorrow is not a peaceful transition of power – it's a corporate coup d'état." Children's rights activist Marian Wright Edelman led a fiery prayer ("God, forgive and transform our rich nation and us…") and urged the assembled guests to "go out there and cause a movement". Playwright Eve Ensler led the crowd in a series of pledges, to "resist, disrupt, love deeper, to rise".

"We will not compromise, we will not negotiate. We will not go backwards," Alicia Garza, co-founder of Black Lives Matter declared. "Are you with me?"…

I had come [to the Women's March] to talk specifically to black girls and women about why they were at the march. Statistically speaking, black women already got in formation at the election (and beyond), and if more white women had followed in their footsteps, perhaps this particular march might not had occurred?

I saw so many black women at the Women's March, and each one I spoke to gave me a variant of the same answer: They were here because they had to be. To have sat it out would've been to cede to a feminist movement that was all too willing to discard them, when they had been the silent workhorses of the collective for so long. It was evident in the number of placards and signs I saw, happily quoting from the rich and grand tradition of black feminist theory and thought: Angela Davis, a speaker at the march, popped up often via her words, as did Maya Angelou. The most quoted was Audre Lorde, whose abundant written legacy is a treasure trove of march-friendly quotables. It was about representation, a group of African women told me. They were here, representatives of African women a continent away from this march, each with their own feminist histories, currently living their own feminist realities. This is for us too, all the black women I spoke to were saying. Putting ourselves back into the narrative, where we have always been. So I approached multigenerational groups of black women and asked to take their photo, and I looked out for groups of multiracial teenage girls, eyes wide and almost overwhelmed by the crowd. We are physical manifestations of our parents' dreams, and I saw so many parents with a proud gleam in their eyes on Saturday afternoon…

It seems fair to consider this march in the continuum of American protests of the last several years. This march's success was in part made possible by the labour of earlier, protesting black bodies: Demonstrations around intersectional black civil rights in cities and towns across America paved the way and began preparing the way for large-scale events like this.

The relative lack of police altercations also offered up a challenge to white allies: If they, in the fight for justice, can "force" police civility merely with their presence, shouldn't they do it more often? As MTV News writer Doreen St. Félix tweeted of the Women's March, "it seems like the lesson to take from police presence yesterday is that more white women should attend smaller rallies and protests."…
Well… maybe that's true? I know (believe me!) how hard it is for a woman to take the risk of putting herself deliberately in what looks like it might be "harm's way". I know it's also true that many of us flinch from the thought of being that Clueless White Lady, rally-touristing to gawp at other peoples' anger and feel all righteously woke. But if having a critical mass of white people, especially lady-people, standing at the edge of every protest waving signs and taking notes is a way to help those paid to enforce public order remember their company manners… maybe organizing action squads to "witness" at all the protests that will happen over the next months and years is one way of fighting back?
In any case, you should definitely click over to read the whole thing, not to mention admire Ms. Aduwunmi's photos.
And here's some more from EllenT: