Well, it's rainy here, anyway, so no birds to watch at my feeders. But here's a handsome cardinal who stopped by a few days ago: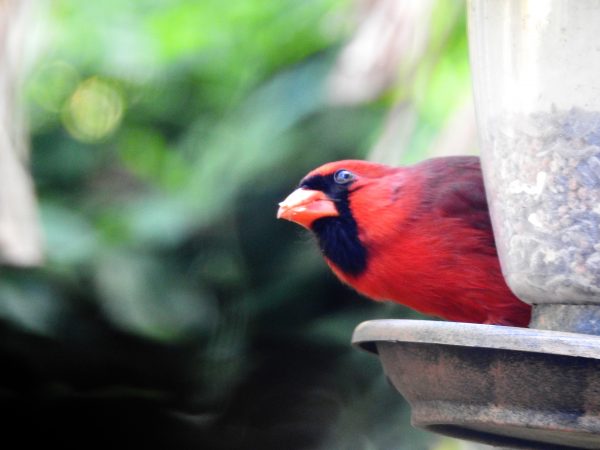 He's definitely giving me the stink-eye. And here's his lovely mate with a seed shell hanging out of her beak; she doesn't look too happy about the paparazzi either: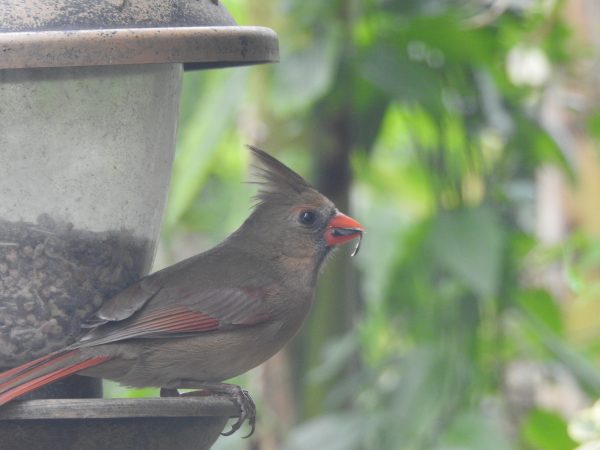 I'd post a photo of my chickens, but they're pitiful today. There's plenty of covered space in their coop where they could stay dry, but they prefer to stand around in the rain and hate the world. I know the type!
Speaking of disgruntled clucking, looks like some former shitgibbon campaign staffers are sharing their tyrant toddler handling techniques with Politico. An excerpt:
President Donald Trump's former campaign staffers claim they cracked the code for tamping down his most inflammatory tweets, and they say the current West Wing staff would do well to take note.

The key to keeping Trump's Twitter habit under control, according to six former campaign officials, is to ensure that his personal media consumption includes a steady stream of praise…

The in-person touch is also important to keeping Trump from running too hot. One Trump associate said it's important to show Trump deference and offer him praise and respect, as that will lead him to more often listen. And If Trump becomes obsessed with a grudge, aides need to try and change the subject, friends say. Leaving him alone for several hours can prove damaging, because he consumes too much television and gripes to people outside the White House.
Emphasis mine. Six campaign staffers? Good Christ. Four-point restraints would have been more effective. The portrait that emerges is of a sulky oaf whom a normal person wouldn't trust to look after a potted fern. A fake potted fern, even. FSM bless us, every one.
Open thread!