Here's beady-eyed Christo-fascist fraud Mike Pence playing dress-up at the DMZ in Korea and pretending that he and the incurious dipshit president he serves have a bold new strategy to address the conundrum that has vexed the world for decades: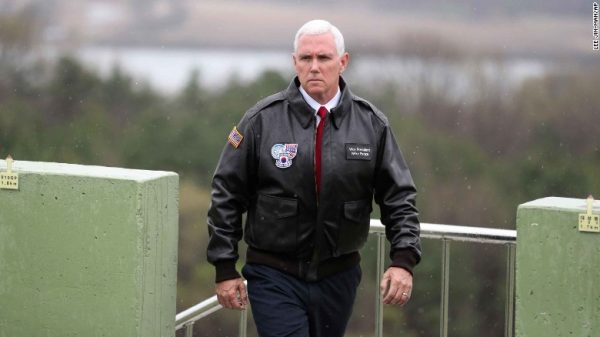 Here are some of the words that came out of the squinty fraud's cake hole when he interrupted his cosplay fun briefly for an "exclusive" CNN interview:
"We're going to abandon the failed policy of strategic patience. But we're going to redouble our efforts to bring diplomatic and economic pressure to bear on North Korea. Our hope is that we can resolve this issue peaceably…

I know the President was heartened by his discussions with President Xi (Jinping). We've seen China begin to take some actions to bring pressure on North Korea but there needs to be more…

Look, we want to be clear: our hope and frankly our prayer is that by marshaling the resources of nations across the Asian Pacific — not just South Korea, Japan, other allies — and China bringing renewed pressure to bear…
Where have we heard that before? Oh yeah, from pretty much every U.S. president or veep who has spoken about the North Korea problem since the Dwight D. Eisenhower administration.
Honestly, it's a relief to hear Pence regurgitate the familiar bromides since we wouldn't want his boss — who happens to be the world's other nuclear-armed narcissistic madman with awful hair — acting out his corresponding set of daddy issues on a world-historical scale. But spare us the bullshit on stilts about a "abandoning the failed policy of strategic patience," when all that means is that we'll continue to do the same exact shit, only supplemented with meaner tweets from the marmalade hairball in the Oval Office.
For all that the Fox News-addled shitbirds in my Facebook feed love to talk about participation trophies and kids today and the extra-dainty, precious sensitivities of liberal snowflakes, it really is all about feelings with that crowd. Trump and Pence snarl and cavort around in flight jackets and do nothing substantive whatsoever, and oh happy day, finally that awful black feller has stopped apologizing for 'Merica and we're number one again.
The same spite animates these jackholes on virtually any issue you can name: Roll back Dodd-Frank because liberals! Repeal Obamacare because "Obama"care! Authorize pollution on a grander scale because liberals oppose it! Ignore climate change until the water rises over our nostrils! The Trump-Pence administration is truly Cleek's Law made flesh.
And yet, Trump himself gets all disgruntled when confronted with irrefutable evidence that millions of Americans hate his fucking guts ("paid protesters!") and whines about his glorious Electoral College victory while his lying flack Kellyanne Conway simultaneously admonishes us to get over the election. You first, you fucking assholes.
What we need, fellow citizens, is a new Age of Reason — a civic reattachment to facts and substance over lies and feelings. I don't know how we get there from here. But I don't even want to think about what happens if we don't start moving in that direction, and fast.