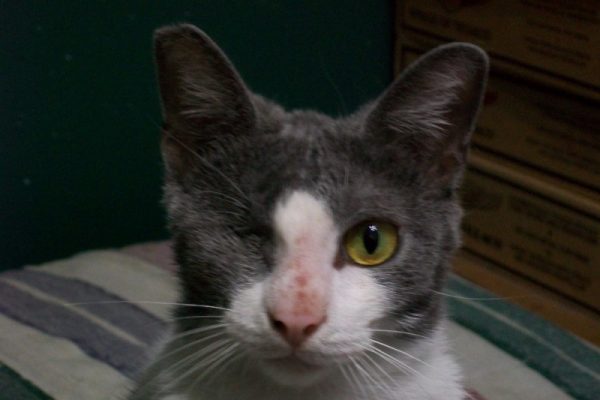 From commentor Dalai Rasta:
I hate to do this, being that I only rarely post here, though this blog is one of my daily reads.

My cat just had a seizure today. This cat.

I don't know what to do. I can't afford care for anything serious.

I'm disabled. I receive SSI. I have seizures myself, as well as chronic depression. I can't drive, because even with medication, I have 3-4 seizures a month. I'm obviously unemployed.

I live with my parents, both of whom are on Social Security. My father receives chemotherapy one week a month for myelodysplastic syndrome. He occasionally requires injections for low blood cell counts. My mother uses a wheelchair when she's out of the house, and otherwise spends most of the day in bed, She has osteoarthritis and fibromyalgia.

Our house is a wreck. None of us can keep up. We have leaks in our ceiling and a tarp on the roof, which has been there since after Hurricane Isaac.

We have four cats, all of which I adopted after I started looking after the feral cats on our street. I was here all the time; I needed some way to feel productive, so I started getting them spayed and neutered, and feeding those who stayed in our yard. I took in those who had injuries; every single cat in my house had some medical issue when I took it in. I've been doing this since Hurricane Katrina in 2005…

I probably shouldn't be posting this. I've managed not to do it hundreds of times before. But Bella is my baby. She even tries to look out for me. She pesters me to go to bed at the right time, and wakes me up to take my medication in the morning, and again to start my daily routine. She's the calmest, sweetest cat imaginable, and I can't bear the thought that I can't take care of her.

I just need advice right now, and a sympathetic ear at a difficult moment. I know this to be a place where that's often on offer.
Bella's GoFundMe page is here. Even if you can't donate, please share on Facebook and other social media — it actually does help!
If you want to get in touch with D.R. directly, send me an email at annelaurie dot verizon dot net, and I'll forward it to him.