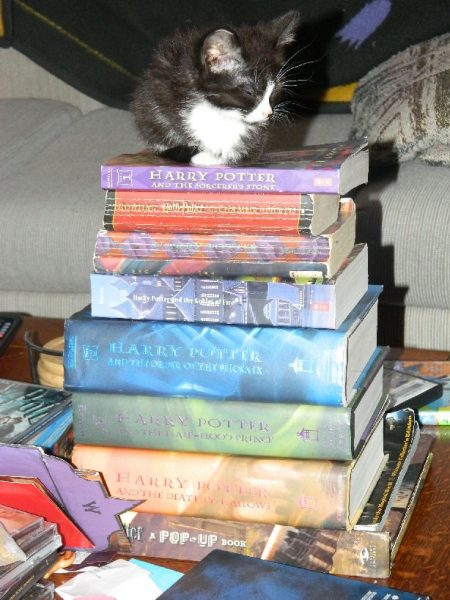 Commentor DanielX, with happy news to start the morning:
Chez X formally welcomes two new feline inhabitants: Boris (the Boisterous) and Natasha (the Climber). Okay, they're both climbers. Both were adopted this weekend at an adoption fair at the fair price of thirty bucks each – fixed/spayed and with all shots except rabies, for which they are yet too young at nine to ten weeks. Already gotten much more than that in enjoyment for all concerned – except for Zoey the Senior Cat, whose reaction has been snakes on everything and a thousand hisses!

They are both rescued strays, both intrepid explorers and climbers and seem to be settling in well. Boris has already demonstrated the kitten levitation and sideways dancing sidle tricks repeatedly and Natasha has shown her mad skillz as an escape artist and climber. Their apparently suicidal curiosity is matched only by their reflexes, which enable them to escape any threat except a heavy Zoey-paw when they encroach on her space. Which, naturally, she considers to be the entire house, so they better learn to keep their high pitched mews, chirps, gravity-defying antics and inquiries about her royal self to themselves, or else. Oh well, she will get used to them eventually although she may never forgive any of the humans involved.

At top: Natasha captured not too long ago after somehow levitating to the top of a stack of Harry Potter stuff without knocking over the heap (hell of a lot more agile than Republican senators, no?). Boris is doing something unseemly under the same coffee table at the time. Natasha is a tiny thing, but healthy!

Boris captured in a reclining pose. It's difficult to get any other kind of him since he is generally moving too fast for a camera to capture anything but a blur. He thought he had magically become an alpha cat and head bully until Zoey dispossessed him of that foolish notion – bop!

Natasha, already well acquainted with the fine old cat tradition of sleeping on top of the clean laundry in the basket.

Below: Boris in an action shot with Your Humble Obedient Servant. He seems to be settling in well.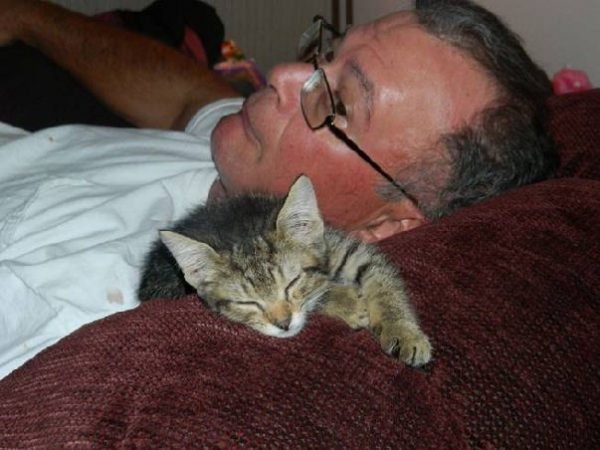 Apart from the Morning Moment of Zen, what's on the agenda for the day?