North Korea launched another long-range missile. The missile wonks on Twitter are trying to figure out the range, but as I write this, not all the numbers are available yet. If you like to see this kind of thing worked out in real time, follow
and others whom they retweet.
Not to be outdone, Our President has added his strategic thinking.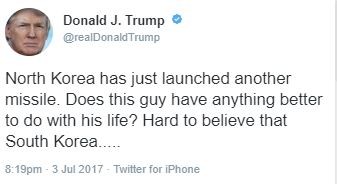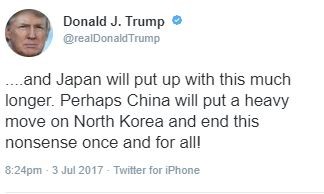 I prefer to screenshot his tweets because sometimes he deletes them and because I don't want to give him the clicks.
There is always so much to unpack in a Trump tweet. He seems to be recapitulating what he's said before: that it's up to South Korea, Japan, and China to deal with North Korea. Why don't you guys fight? No strategic thinking, and actively dangerous for a president to be goading other countries.
Update: Here's a thread with a much more extensive commentary on Trump's tweets.
Lots of problems with Trump's tweets tonight on North Korea, but to highlight a few: 1/

— Laura Rosenberger (@rosenbergerlm) July 4, 2017