The only extended time I lived outside of Florida was a few years I spent in Massachusetts in the late 80s. I moved there right after college (yes, I'm old — Mr. Catch-22 himself, Emmitt Smith, was a classmate — Go Gators!).
One lovely summer day during my Beantown sojourn, some friends and I took a ferry boat to Georges Island in Boston Harbor for a picnic. I knew nothing about the place. But a nice Park Services lady told us the island had once housed Confederate prisoners of war.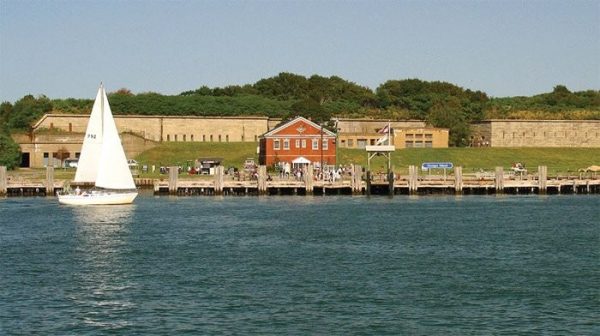 There was a small, modest monument to said Confederates who had died on the island. Just 13 names. I was startled to see that one of them was from Florida, like me, and he had MY last name.
Thanks to a great-uncle who set store by such things, I was well aware at that time of my ancestry on my mom's side of the family, which included several Confederates as well as some virtuous Revolutionary War heroes. But seeing my father's last name on a Confederate monument — in Massachusetts, of all places — was my first inkling of Confederates in my paternal line.
I was curious enough to check it out — not easy in those pre-internet days — and it turns out, yeah, the coal-shoveller on a Confederate steamboat who died on Georges Island was a relative. I suspect his short life sucked. I further suspect the Massachusetts winter rattled his bones, maybe even killed the poor sumbitch, more than 120 years before that same chill drove his descendant, me, back home to Florida.
But should Massachusetts maintain a memorial to the likes of my unlucky relative? To be fair, it is about as inoffensive a Confederate memorial as you'll find on the planet, comprising mostly the names of the dead, like a tombstone. But whether to remove the monument or not is apparently a controversy in Massachusetts right now.
Well, if the input of a descendant of one of the 13 Confederate dead has any weight, Massachusetts, I say take it down. Why? For starters, it was put up under the auspices of the Daughters of the Confederacy, and the less you have to do with those myth-making coots, the better.
But more importantly, the monument is injected with the same poison that blights our fate as a country — the conceit that God had any part in the foul business of the Confederacy, and the insinuation that there was anything remotely honorable or noble about "the cause" it represented.
So take it down, Massachusetts. You have the blessing and encouragement of this descendant of the dead. But more importantly, you have the moral imperative of the living, and a responsibility to those yet to be born.