The National Hurricane Center's 5:00 PM EDT updates posted just under an hour ago. The advisory went first as it takes a while to update the maps and graphics. Here's their static image, 3 day forecast with warnings and the cone for Irma: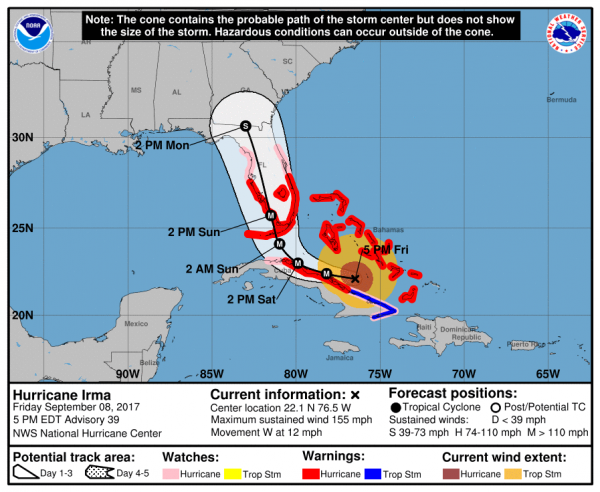 The public advisory can be found here.
And the interactive forecast map with warnings and cones can be found at this link.
Just a very quick comment on what we're seeing going on. The first thing I learned working with a retired Navy captain at USAWC was that if you want more power out of your engine, you add heat. We've added heat to the oceans. We've added heat to the atmosphere. As a result the engine is generating more power. And that's why the forecast track wobbled east to west and then back a bit over the past 12 hours. Because we've got more power in the system than we've ever had the only thing anyone knows for sure is that Cuba is going to take a pounding. What is uncertain is when it will make the hard right turn that's been expected and forecast.
So if you're in the potential path, keep checking the forecast updates! Remember, yesterday this thing was supposed to hit Jacksonville sometimes on Monday. This morning Atlanta on Tuesday. Now it's just west of Atlanta. So there's a lot of variance in the forecast even as the models are in agreement.
If you're on the east side of this storm and you've got time to still do so: GET OUT!!!!
If you're currently on the west side of the storm finish your preparations. keep monitoring the forecast track, and if the forecast shifts to the west, GET OUT!!!!
Stay safe. And remember to hydrate!