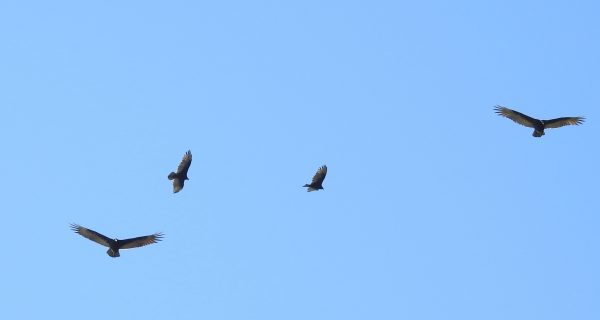 My husband is a pretty good barometer for how political stories play among rank-and-file voters. He doesn't follow politics as closely as we do, but he pays some attention.
He believed the "Bernie was robbed" narrative the media vultures* pushed after Politico published an excerpt of Donna Brazile's book earlier this week. It played to his preconceived notions.
A new document that emerged yesterday provided context that played to my preconceived notions; it strongly suggests that Brazile's dramatic narrative was a steaming load of horse shit. Via NBC:
Memo Reveals Details of Hillary Clinton-DNC Deal

WASHINGTON — The Democratic National Committee struck a deal with Hillary Clinton in 2015 that gave her campaign input on some party hiring and spending decisions, but required they be related only to preparations for the general election, according to a memo obtained by NBC News. It also left the door open for other candidates to make similar arrangements.

The document provides more context to the explosive claims made by former DNC Interim Chair Donna Brazile in a forthcoming book, an excerpt of which was published this week.
More context, yes, that's one way to describe it. The only hinky thing in the agreement that I can see is a provision that let the Clinton campaign influence the DNC communications director hire prior to the primaries.
If you think Clinton is an evil harpy bent on torpedoing people-powered, sparrow-anointed revolutions, you could construe that provision as exerting undue influence before the nomination was settled. If not, you might interpret it as reasonable considering that Clinton's campaign was bailing out a poorly run organization that was as broke as the 10 Commandments.
Anyhoo, here's the relevant section of the memo — judge for yourself:
"Nothing in this agreement shall be construed to violate the DNC's obligation of impartiality and neutrality through the Nominating process. All activities performed under this agreement will be focused exclusively on preparations for the General Election and not the Democratic Primary," the memo states.
The piece linked above was published yesterday evening. Did it make a difference in how folks who don't follow this bullshit closely grok the story? Did it tamp down anger among those who have an ax to grind?
Nope and nope. News about the memo doesn't appear anywhere above the fold that I can find, so non-political junkies are unlikely to see it. And here's a piece also published at NBC News a few hours ago by the same reporter, Alex Seitz-Wald:
Bernie Sanders Camp: The Fix Was in Against Us

WASHINGTON — Bernie Sanders campaign says they now have proof.

With last year's primary still roiling the Democratic party more than a year later, two former Bernie Sanders campaign officials are charging the Democratic National Committee offered their campaign a less favorable fundraising deal than Hillary Clinton's team received…

Jeff Weaver, the campaign's former campaign manager, dismissed the clause in Clinton's agreement limiting engagement exclusively to general election activity as a fig leaf.

"Throwing this catchall at the end saying that this document doesn't say what it says is a little disingenuous," he said. "Anybody who suggests we were being treated the same way is playing semantic games."
According to the DNC, Sanders' campaign could have had the same type of arrangement, but they were strapped when the Clinton campaign swooped in to bail out the DNC. Sanders operatives deny that they were ever offered a similar deal.
For me, all of this bullshit is further proof that facts don't matter in partisan squabbles. Therefore, it seems appropriate to paraphrase Mr. Orwell: If you want a vision of the (Democratic Party's) future, imagine a sensible pump stamping on Bernie's face — forever.
That's how one side will always see it. Others see Russians, all the way down. I see a window of opportunity to bury the goddamned hatchet and move the fuck on so we can oppose the honest-to-Christ authoritarian demagogue in the White House and his minions in Congress. But it's closing.
*No disrespect intended toward vultures, which seem to be fairly noble creatures who perform an essential ecological function.